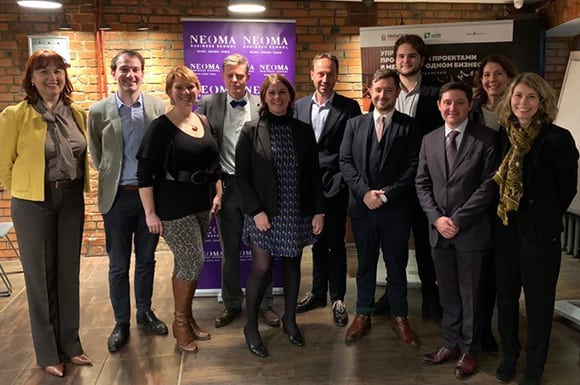 NEOMA at the French-Russian University in Moscow
Member of the French-Russian University since 2016, NEOMA took part in the Gaidar Economic Forum in Moscow in mid-January, one of the most prestigious economic and academic forums in Russia.


Invited by Moscow University RANEPA (IBS), with whom the School has dual-diploma agreements for CESEM and Master in Management programmes, NEOMA worked alongside the French CCI in Russia on two events with the invaluable assistance of Grégoire Chesnot, NEOMA alumni and Marketing Director of the CCI in Moscow, and the IBS staff members.
First of all, a networking event, attended by the Moscow alumni community and fifty or so companies, including Gucci, Sanofi, Oney Bank, Yves Rocher and Deloitte, was held on January 14th. The informal evening event provided the perfect opportunity to present NEOMA and hold discussions on potential future projects.
For the second event, Céline Davesne, NEOMA Associate Dean for Programmes and Internationa, chaired a round table discussion on the theme of "International cooperation: Emerging jobs and skills for the future market" on January 16.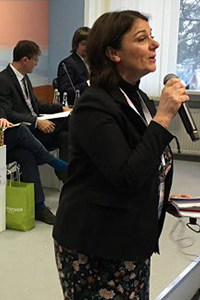 Alongside Céline Davesne were Matthieu Gomart, CEO, Yves Rocher, Rudolf Razek, HR Director, Danone, Christophe Huet, Partner CMS , Albert Grigoryan, General Representative, ENGIE in Russia, Tatiana Shilova, Head of Talent Business Partners Group Deloitte, Irina Aksenova, Vice General Director for Key Customers Services, Coleman Services UK, and Artem Simonov, Leading Data Scientist, Europe, BCG.
A number of interesting discussions were held on the following themes:
• How are digital and environmental transformations impacting your organisation and transforming your business?
• What new skills are being sought?
• What are the main challenges facing the Russian labour market?
• How can the worlds of education and business work together to meet company and market expectations?
There were a number of objectives behind NEOMA's participation: creating a bridge with the local economic network, promoting the CESEM programme, generating opportunities for our students, discussing new dual-degree programmes and the development of Executive Education.
The particularities of the Russian market were addressed at length, in the context of a fast-changing labour market:
• The transition from a world of experts with a scientific background to more agile, cross-cultural leaders.
• The need to build programmes that combine new technologies, business and soft skills intelligently.
• The unanimously agreed importance of internships that still requires the setting up of a legal framework.
• The economic development of many cities besides Moscow and St. Petersburg, such as Samara, Ekatirinburg and Novosibirsk.
The round-table discussions generated two TV interviews, further highlighting the School's presence at the Forum; one by the Russian television station, Russia Today, the other by the RANEPA TV service.