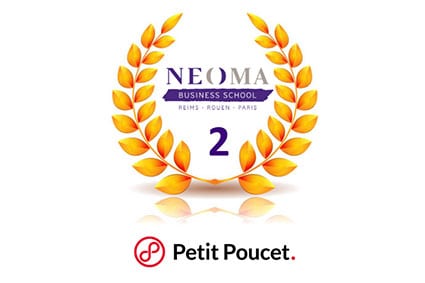 NEOMA BS, 2nd on the student entrepreneurship barometer
Good news for student entrepreneurship at NEOMA BS: the school has been ranked second among higher education institutions according to the 2018 Petit Poucet barometer, which means the school advanced two places from its standing in the 2017 barometer.

Each year, Petit Poucet, a start-up incubator, organises a national business creation competition for students and young graduates in order to draw up its new class and promote the entrepreneurial spirit throughout the territory. It is a much-respected competition for our young French students with 305 applications submitted this year, a record! Among the applicants, 34 came directly from the NEOMA Business School community, making for more than 11% of the entrants.
"The increase in applications clearly shows the current trend at our school where students and young professionals are setting their sights more and more on business creation," said Denis Gallot, Director of incubators at NEOMA Business School.
This year, the team from the start-up Nomen'k, powered by NEOMA BS Incubators, also distinguished itself during the Petit Poucet competition by taking 2nd prize in the Foodtech and Gastronomy category. It was worthy acknowledgement for this young business specialising in the production of super energy snacks made from spirulina and French hemp seed.
>Learn more about the major trends in student entrepreneurship in France by consulting the student entrepreneurship barometer online.