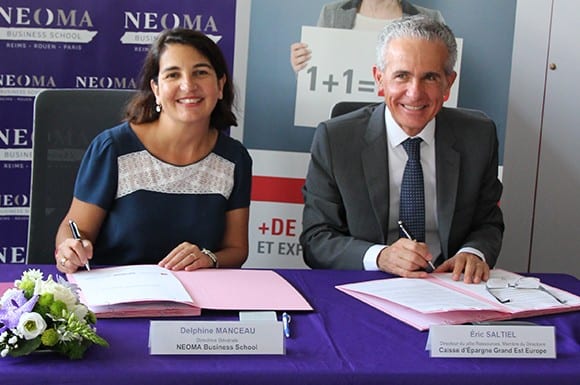 NEOMA BS and Caisse d'Epargne Grand Est Europe renew their partnership
On the 25th of July, on the Reims campus, Delphine Manceau, Dean of NEOMA Business School, and Éric Saltiel, Human resources director and Member of the management board at Caisse d'Epargne Grand Est Europe, signed a partnership that will provide significant advantages to students.
Caisse d'Épargne Grand Est Europe is a long-standing partner of NEOMA BS and is heavily involved in student recruitment, while also providing support to the start-ups in the incubator and to the school's scholarship programme.
"We have maintained a strong relationship for a long time. With this renewal of our commitment to cooperation, we are going to be able to accomplish even more. Together we can make progress in professional training for the banking sector, help young students finance their studies and bring events and opportunities to our region," Delphine Manceau said.

With its renewal, the partnership can move forward even more with greater participation from Caisse d'Épargne Grand Est Europe in the student-business meetings organised by the school during the Starting Days events, recruitment forums, profession days, etc.

The CEGEE also affirms its community values through the funding of "CEGEE Scholarships", which help provide access to higher education for applicants coming from disadvantaged backgrounds. Networking will also be set up for students who receive these benefits, such as the provision of tutoring services.

"For us, this partnership makes sense. It demonstrates our heightened commitment to this collaboration, which has become even more frequent and functional over the years and which provides support to the youth in our region. For us, helping young people is an effort in mapping out the future," Éric Saltiel said.

Lastly, CEGEE shares a strong regional presence with NEOMA BS and demonstrates this by joinging together with the school to organise discussions and meetings that are open to the public (students, general public, businesses and institutions) during cultural events in the region, like the sponsorship it provided to the Mauro Corda art exhibition, which was held on the Reims campus from April to July 2019.

This signing also provided the opportunity for the employees from Caisse d'Épargne Grand Est Europe and NEOMA BS in attendance to talk about different current or future projects: teaching, Starting Days, continued education, fundraising, etc. It is truly a partnership with a future!