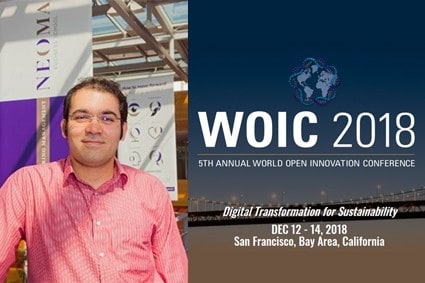 NEOMA BS professor member of the Committee of the World Open Innovation Conference (WOIC) 2018
Mehdi BAGHERZADEH, professor in the Strategy and Entrepreneurship department of NEOMA Business School has been appointed as a member of Academic Program Committee of World Open Innovation Conference (WOIC) 2018.

WOIC is a leading conference in the field of Open Innovation, organised for the fifth consecutive year by Garwood Center for Corporate Innovation, University of California, Berkeley. It will take place on December 13 and 14, 2018, in San Francisco (CA, USA), on the theme on "Digital Transformation for Sustainability".
Mehdi BAGHERZADEH will be Assistant Program Chair for this 5th edition. He is known for his research in the field of Open and Collaborative Innovation. His recent paper, titled "How does breadth of external stakeholder co-creation influence innovation performance? Analyzing the mediating roles of knowledge sharing and product innovation", has been published in the Journal of Business Research, 3 stars CNRS review.
Mehdi was involved in two research projects: 1) The Enterprise Study conducted by the Institute for Communication Technology Management (CTM), USC Marshall School of Business; and 2) The Global Case Study on Open Innovation, a joint project conducted by Accenture Institute for High Performance and Purdue University with the aim of studying the appropriate governance mechanisms of open innovation projects to have successful innovation.
>read more about World Open Innovation Conference (WOIC) 2018