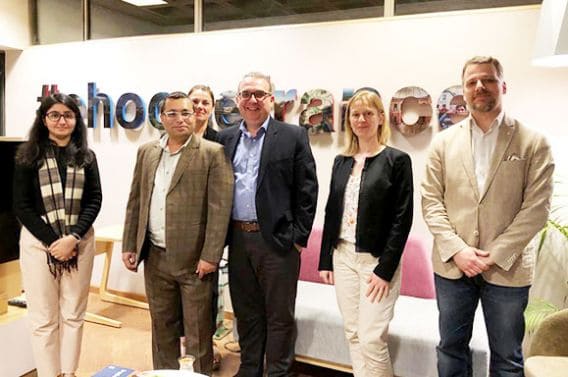 NEOMA Business School unveils its development ambitions for India
A year after the opening of a representative office in India, several representatives from the executive board travelled to Mumbai and New Delhi in March to meet with alumni, businesses, partners as well as journalists. Having many long-standing partnerships with the best management schools and universities in India, the school wants to strengthen its visibility with Indian students and the local academic network.

As part of its international development strategy, NEOMA Business School also announced its clear ambition: to double the number of Indian students in the next 3 years, for both Post-Bac and Masters of Management programmes as well as executive education. Currently, Indian students are the 2nd largest population of international students at the school. With the opening of a new representative office in Mumbai in 2018, the school wants to strengthen its visibility with Indian students. "This new office in India supports our ambitious international development strategy with increasing recruitment of international students who will enter our programme," Delphine Manceau said, "Between 2014 and 2017 the number of Indian students in our programmes has increased by 150%! The opening of an office was a logical move for supporting this development and strengthening our proximity with our applicants, students, graduates and partners". Among the programmes popular with the Indian public are the Masters, the MSc in Supply Chain Management and the MSc in International Luxury Management.
The strengthening of the local academic network and the establishment of new partners with the Indian universities as well as government institutions also represents a major area of development. In India, NEOMA BS has made long-standing partnerships with 13 universities and schools, with a large majority being among the most renowned like The Indian Institute of Management (IIM) in Bangalore, IIM Calcutta, Xavier School of Management and Indian School of Business. French students have shown increasing interest in India. The number of exchanges has nearly doubled, with nearly 150 students traveling on exchange each year. As for Indian students, there are around 150 of them per year spending one or two semesters in NEOMA BS.
This strengthened cooperation also concerns the executive programmes at NEOMA Business School. Its new Global EMBA will attract a large number of Indian students. In fact, it is taught entirely in English and available in 3 formats, with the 7-month accelerated version being ideal for international students. For this new programme, four thematic international trips abroad were created, with one of them being centred on the subject of social business and taking place over a week in Bangalore.
Lastly, the school makes use of the active alumni network that has more than 200 Indian alumni. There are also nearly one hundred NEOMA BS alumni from different backgrounds working in India. The network is organised by an Indian alumnus. This chapter organises after-work events several times per year in the biggest cities and fosters professional discussion for exchanging ideas and practices.
France, preferred host country for Indian students
Today, India represents a continuously and rapidly evolving market that cannot be ignored by all of the players in higher education. Currently, France is 10th in world among countries welcoming Indian students and it can advance even further. French President Emmanuel Macron announced last March that by 2020 he wants to double the number of Indian students coming to study in France, particularly through an agreement signed between France and India in 2015 that allows Indian students to remain 24 months in France through a visa renewal process. This process is much appreciated by these students, given the circumstances of Brexit and its associated uncertainties. "Indian students also appreciate the excellence of French business schools, their expertise and the direct contact with the bonuses of the French economy such as the luxury sector, distribution, supply chain, Fin Tech and entrepreneurship," Delphine Manceau said.