NEOMA Business School's EdTech stand at the BPI Inno Génération fair
The INNO Génération BPI event was held on Thursday, October 11. Tens of thousands of people attended the 4th edition of this event dedicated to innovation at the Accor Hotel Arena, Bercy., Wandering down the aisles in the dense atmosphere, you were likely to come across drones, home printers, seaweed-farm aquariums and humanoid robots. In this futuristic atmosphere, NEOMA Business School presented its vision of EdTech in higher education and its capacity for innovation.

With 43,000 registered participants, 1000 speakers and 300 workshops, BPI Inno Generation represents the largest assembly of entrepreneurs in Europe. This year's event focused on broad themes related to entrepreneurship, health, the environment, exports and artificial intelligence. NEOMA BS presented its vision of education through experimentation and immersion, also known as "experiential education," together with the Immersive Virtual Reality cases it has developed for students. This is a tremendous acknowledgement from the BPI, which supports NEOMA Business School's on-going efforts and commitment to the development of tomorrow's teaching methods.

Virtual Reality and Edtechs
At a stand that attracted visitors all day long, the Virtual Reality headset really aroused the curiosity. "At first, the visitors found it difficult to make a connection between the headset and NEOMA Business School," Alain Goudey, Head of Digital Transformation and Marketing Professor at the school. "They are really curious and ask a lot of questions," continues Thomas Canniot, Pedagogical Technician with the NEOMA BS Learning Lab (R&D unit dedicated to pedagogical development within the Digital Transformation). "But what does it offer to the students? How does it work? What company are you from? They are usually very surprised to hear that NEOMA BS is in fact a business school."
"We then quickly steer them towards an immersive virtual reality case test. It's easier, and it allows them to understand what we're proposing," adds Alain Goudey. "As soon as they put the headset on, the wow factor is guaranteed! We then explain the targeted educational opportunities and the context of the case study in which IVR is used."


La #VR @NEOMAbs suscite beaucoup d'intérêt à #InnoGeneration de @Bpifrance ! Notre seconde étude de cas en #logistique sur le #drive @leclercdrive plaît énormément :-) ! Des centaines de personnes vues ce jour.... encore possible d'en parler à la #masterclass en loge 505. pic.twitter.com/BSZaBm8Rd1

— Alain GOUDEY (@AlainGoudey) 11 octobre 2018

As the only Business School present at the Innovations Festival, there is a queue to reach the NEOMA BS stand. "We're going to run out of brochures and business cards at this rate!" jokes the Director of Digital Transformation.
On the lookout for partners, R&D solutions and talent, the School stand was delighted to welcome several alumni who were visiting the fair.

Like Mathieu Tamby, an Executive MBA graduate, who enthusiastically tested the headset. "NEOMA Business School is a highly reactive school. It gave me the desire to learn again, and to go on learning constantly. That NEOMA BS offers this kind of teaching method does not surprise me at all! I feel like returning for a new course!"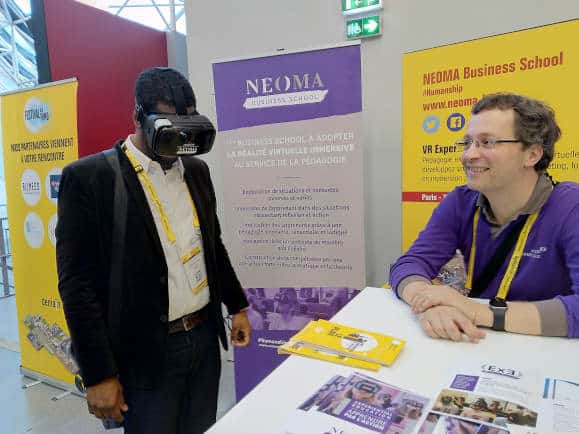 The two expert classes on Edtech are a resounding success
In addition to the stand, Alain Goudey also hosted two expert classes entitled: "IA,VR and Edtech : towards a new teaching approach"
In a private lounge, he presented the on-going revolution in education to an audience of around fifteen. After evoking the "Test and Learn" principle actively developed at NEOMA BS, and a surprising individual-goldfish analogy (who actually share a similar concentration span), Alain Goudey explained the advantages of virtual reality as used in an educational context.
"We ban the use of technological gadgets. Nevertheless, virtual reality cases allow us to maximise student involvement. The prism of the headset offers a strictly personal experience by cutting off any outside influence from the group. Some of the exercises we propose centre on a group exchange about this experience. We also work on an in-depth critical analysis of an augmented reality point-of-sale the students visit." [In the case of the Marketing case study in which the VR is used]





To conclude, the expert class ends with a question-answer session between the speaker and the audience. The questions quickly move towards the future of education: "What do you think education will be like in 10-15 years…?"
To be continued!

Find out more about the event :
http://innogeneration.bpifrance.fr/Replay/2018#video-43925

Relive the introductory Drones ballet:
http://innogeneration.bpifrance.fr/Replay/2018#video-43925