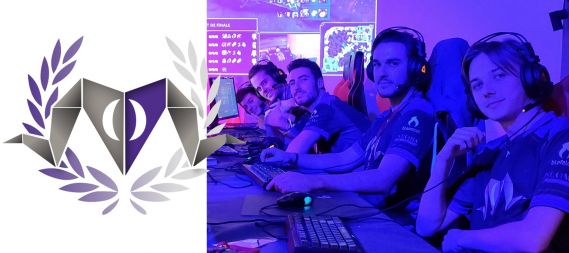 "NEOMA Esport is the best Esport association among French Business Schools"
Luc Tabary, a final-year Master in Management student and ex-professional E-Sport player, is the founder and the president of the NEOMA E-sport association, a position he has held for the past 3 years. Having opted to follow the Association track, Luc's objective has involved a widespread promotion of E-Sport. Interview with a passionate enthusiast.

Why did you launch an E-sport association at NEOMA?
I'm an E-sport enthusiast and driven by the desire to make sure as many people as possible know about this particular activity and to share the experience of actually playing a game: team spirit, the joy of winning, helping each other.
E-sport is also a fascinating melting pot and, contrary to popular belief, it is a caring community. 6 months ago, a group of ZEvent gamers ran a marathon to raise money for the Pasteur Institute and managed to earn €3.5 million in 3 days. A record!
For newcomers, it is difficult to imagine the popularity of E-sport. In France the number of players is growing. But in the United States, for example, E-Sport gamers can earn scholarships, just like promising American football players.
And that is without mentioning Korea, where I did my academic exchange: here, it's the national sport. Players are real stars! They are even more famous and more admired than any football player! Can you imagine? More people watched the last League Of Legend World Cup final than the Super Bowl!
E-sport fills entire stadiums, the latest being the Bird's Nest in Beijing, an 80,000-seat Olympic stadium! As with traditional sports events, matches have commentators and are broadcast live on different channels. The spectators aren't all players, but they admire the skill and technique involved in the games. Just like a non-tennis player who enjoys watching the French Open.
The discipline is also becoming more organised and structured. Today, France E-sport, which acts as a federation, is beginning to put a structure in place. A Division 1 and 2 have been set up with sponsors, coaches and analysts. Coaches look out for the best amateur players and invite them to join their teams. Twenty years ago, only the very best players could hope to make a living from E-sport. Today, it is much easier with the different leagues that can guarantee their players the security of a salary.

What skills do these games help develop?
In addition to agility and coordination, I'd say team spirit, patience, strategy, humility, self-control, perseverance, self-examination and co-existence.
Many E-sport games are played as a team. You need to know how to deal with each individual's character and reactions. If you lose, you need to know how to remain level-headed and analyse the situation objectively. Nobody really reacts in the same way...
This is a point we are particularly careful with at NEOMA E-sport. Getting angry after a game is simply out of the question, even if the defeat is due to an individual error, which can happen. You mind your language and stay in control, even if you are angry. These are the basic rules of co-existence and already a good set of skills to have !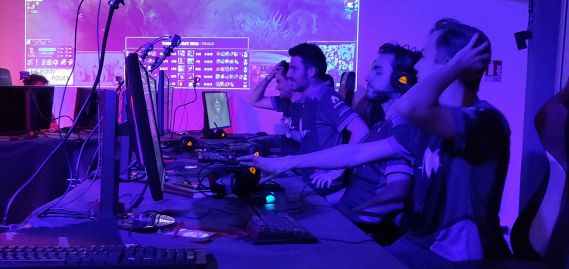 How is the NEOMA E-sport association in Rouen doing?
NEOMA E-Sport is the best Business School E-sport association in terms of performance, membership, sports results and communication and it is also the only business school ranked amongst the top 16 schools in France. This year we are also the association with the highest number of new members.

Teams are formed through affinity and we've set up a coaching system between first (who are a higher level) and second team players. Individual progress is assessed each semester and because so many students have to go away on internship and abroad on exchange, we use the opportunity to recruit new players. Generally, NEOMA students hav to give up playing video games when they start Prep School and so the new members are very happy to start playing again and discover the competitive aspect! But we are also vigilant about making sure there is a healthy balance between academic work and activities with the association.

How do you organise your training? Do you train like other athletes?
The association doesn't impose any kind of training . Our main concern is creating and maintaining a good atmosphere.
But overall the rhythm is fairly steady. Team members practice 4 or 5 times a week in addition to official matches. There is only one rest day per week: Sunday.
Generally, practice sessions are in two parts and last 2 hours on average, which is quite a lot. After a game, we analyse our mistakes and our scores. Analysing the performance is really important if you want to make progress. We often review our games to avoid repeating the same errors, improve our strategy and get to know our opponents better.
The matches, especially in the final, are really energy-intensive. Each match has 5 games, which last around 40 minutes each. The pressure is really intense and a lot of concentration is needed. We are totally drained at the end of an event! But we are fighting for our campus and because the results are coming in, it's really easy to enjoy yourself and have a lot of fun.
We are lucky to have the opportunity to be proud of our school and when we invite our friends to come along and support us during a game, they always turn up!
E-sport is really enjoyable and an opportunity to share great moments together. We get together with our roommates and support our team. Just like we'd do for a football match!