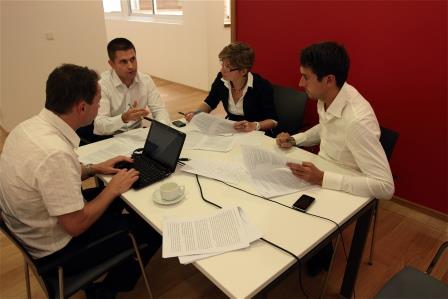 NEOMA MBA Students begin the International Consulting Project
Champagne Houses, Manufacturing and Technology Companies turn to NEOMA MBA students for Strategic International Growth Plan.

Champagne producer Arnaud Gounel presented a project proposal to MBA students gathered at NEOMA Business School's Central Paris Campus on Friday night. Representing Champagne Gounel -Lassalle - which his family began almost 170 years ago – Arnaud was seeking an answer one of the hottest questions in modern business: how do I grow my business internationally?

Over the next 6 months, as part of the International Consulting Project (ICP), a highly diverse team of NEOMA MBA students will consult with Champagne Gounel –Lassalle to develop an executable strategy for international growth.

Friday night featured three other companies presenting their proposals to the MBA students: Virax, a professional tool company looking to expand in developing markets. MyBubbles, a start-up technology company which recently presented at CES 2017 in Las Vegas. And, Champagne Martial-Couvreur, a producer based in Reims.

The 4 companies we are working with this year come from a range of different industries each with their specific identity and corresponding consultancy requirements. After each company presented its unique business case and took questions from students, the company representatives met with students, mentors and professors over Champagne and hors d'oeuvres.

"We have a campus in Reims, so the school has naturally historic links to the Champagne region in France and hence we have two champagne houses collaborating with us this year," said NEOMA Business SchoolMBA Academic Director, Lisa Thomas. "The students will be challenged to help these businesses grow through implementing a range of competencies they have developed during their studies on the MBA programme to date".