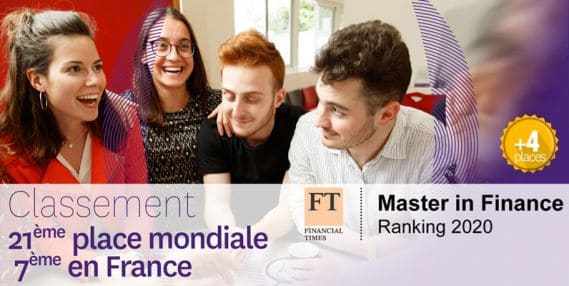 NEOMA ranked 21st in the Financial Times 2020 Masters of Finance
The Financial Times 2020 Masters in Finance ranking is published today.

NEOMA is ranked 21st in the world and has climbed up 4 places with the MSc in International Finance (AFI). The School now ranks 7th among French Business Schools.

The programme is acknowledged in the following categories in particular:

"Aims achieved", with a 90% student satisfaction rate.
"Career Services Rank", accounting for the effectiveness of the Career Services department, ranked 6th.
"International Faculty", measuring the Faculty's international profile.

"NEOMA has moved up 19 places in 4 years in this internationally renowned and highly prestigious ranking" analyses Delphine Manceau, Dean "This progression reflects NEOMA's excellence in Finance and the development of our relationships with major companies and financial institutions worldwide, including our recent partnership with Finance for Tomorrow in support of Sustainable Finance."