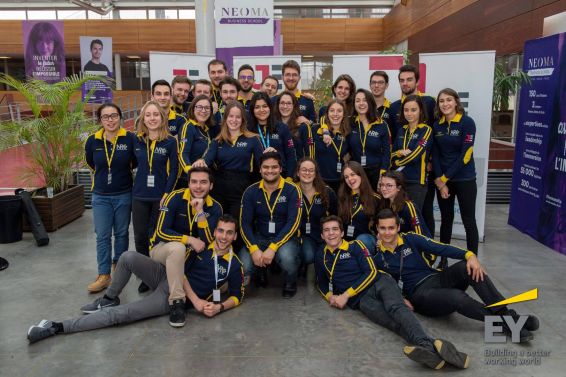 Neoma Reims Conseil (NRC) welcomes Juniors-Entreprises from the Grand Est region to Reims
On Saturday 16 and Sunday 17 March, NRC, the Neoma BS Junior-Enterprise based on the NEOMA BS Reims Campus, held the Regional Spring Congress for Junior-Enterprises from the Grand Est region.

Organised in collaboration with Junior Conseil UTT and Junior Consulting, from the Sciences Po Reims Campus, the event brought together more than 200 Junior entrepreneurs from around the region to spend a pleasant moment learning from the experience of their peers.

The National Confederation of Junior-Enterprises was also present for what is a key moment for the organisation. Other premium partners (ALTEN, BNP Paribas and EY) were also in attendance with a view to setting up a range of training courses. Mickael JOLY, member of NEOMA Alumni, the School's alumni association, was also on hand to provide networking training. The day, which turned out to be particularly intense and interesting for the Junior-Enterprises present, ended with a magnificent evening at the National Arts Centre, la Comédie, for a performance of the musical based on the legend of Mulan!

"As this mandate draws to a close, organizing the Spring Regional Congress represents the accomplishment of the work we have been doing for the past year now. We have worked hard to make Neoma Reims Conseil a well-known and renowned economic player throughout the region, and the success of this event is a fitting way to bring to a close the 2018-2019 mandate that I have been fortunate enough to chair," explains Paul Berthier, NRC President.