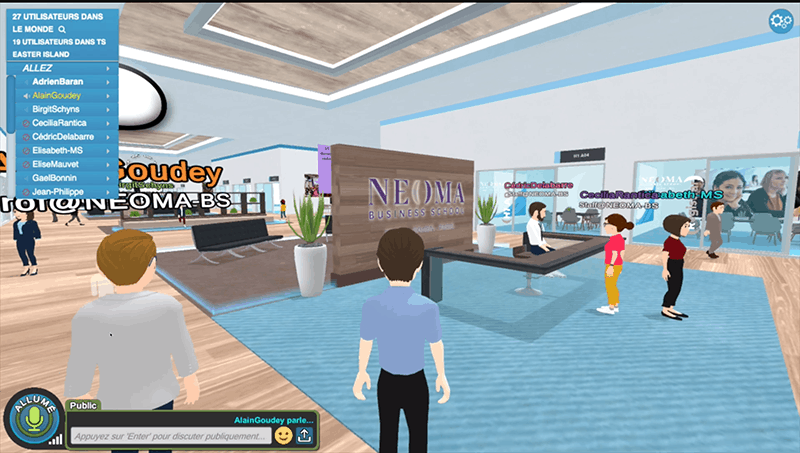 NEOMA: THE French Business School to watch in 2021!
Poets & Quants has ranked NEOMA among the top 5 European Business Schools to watch in 2021, alongside the prestigious Bocconi University and Imperial College London!
"(…) that is the time to innovate and create your own future"
When the COVID 19 crisis struck and emptied the campuses, Poets& Quants, an American digital media organisation specialising in Business Higher Education, pointed out that Business Schools were by their nature vulnerable to lockdown. Indeed, with their professors and students travelling to the four corners of the world and their teaching methods based on face-to-face teaching and interaction, they would be struck right at the heart of their business model. Their journalists therefore looked closely at the European Schools which had managed to adapt very quickly and come out on top.
With its virtual campus open from September 2020, NEOMA is one of the Five European Business Schools To Watch In 2021, in a group comprising the five best: SDA Bocconi School of Management (Milan, Italy), IE Business School (Madrid, Spain), ESMT (Berlin, Germany), and Imperial College Business School (London, United Kingdom).
"It's not real life. But weirdly it feels a lot like it."
The journalists from Poets & Quants visited the virtual campus, the 4th campus of NEOMA, in the company of Alain Goudey, the School's Chief Digital Officer and were totally won over!
"It's an amazing thing, a Minecraft-like island with a campus building containing over 80 rooms, lecture theatres, classrooms, break-out rooms and offices where students and faculty create an avatar that resembles them, then wander about attending lectures, presenting projects, chatting and collaborating. When Alain Goudey, NEOMA's Chief Digital Officer, showed us around, we bumped into another staff member and a student in a side-room chatting about creating a virtual Chinese New Year celebration. They told us they expect up to 1,000 people to attend. (…)
The result is an experience that makes you think you've seen the future."
>Read the Poets&Quants article: Five European Business Schools To Watch In 2021
Poets& Quants is an American digital media organisation specialising in the Business Higher Education market which "publishes more articles, series and videos on MBA programs and management education than any other media outlet in the world".