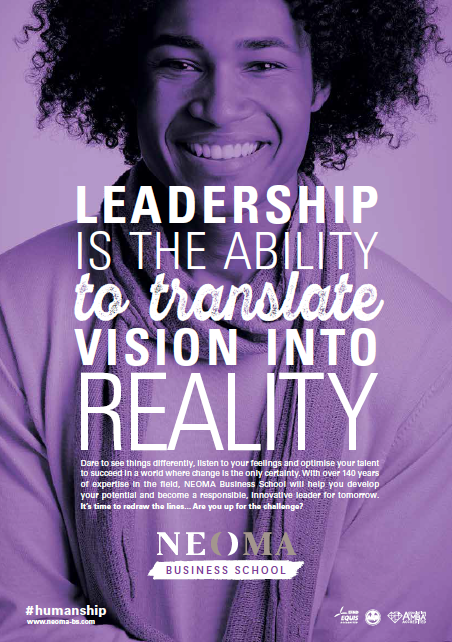 New communication campaign for NEOMA Business School
The School has a new advertising campaign that focusses on our uniqueness: a new approach to leadership and agility, a humanistic philosophy embodied in #Humanship, and the strength of teamwork as a guarantee of performance.

Designed by the agency Nouveau Monde DDB Toulouse, the creative basis of the campaign is a new advertising concept that takes advantage of the popularity of quotations. The aim is to communicate a strong message in an aesthetic, original way and to react to the codes of a generation that shares its convictions using new means of expression.
The different hooks focus on new relationships to knowledge and work, and present a future career as a means of self-fulfilment.

Concerning the graphic style, the School uses the colour violet to give our brand a strong identity. To reinforce the message and encourage viewers to identify with the school, we have used portraits of young people with open, attractive faces. The logo has also been made clearer and more modern.

In addition to "#Humanship," which continues to powerfully embody the School's strategic focus, we have developed the slogan "#jechoisisNEOMAbs" or "#IchooseNEOMAbs" as a genuine invitation to join our community.

"This artistic direction responds to our desire both to present ourselves to future students in a different way and to open our community up to them" analyses Caroline DEFAUT, NEOMA Business School Associate Dean for Marketing & Business Development.

Discover the Master in Management campain and the Full-time MBA campain.