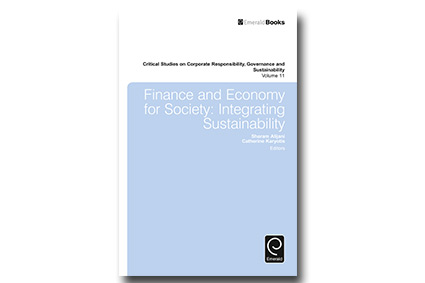 New publication in Finance
Catherine KARYOTIS and Sharam ALIJANI, professors at NEOMA Business School, edited in December 2016 "Finance and Economy for Society: Integrating Sustainability", the 11th volume of the book series "Critical Studies on Corporate Responsibility, Governance and Sustainability", published by Emerald Group Publishing Limited.

Editor's presentation:
The book has been divided into three parts. Part I focuses on the causes and consequences of the 2008 financial crisis and its implications for businesses and the management practice. Part II examines the impact of finance on social and economic structures and interrelations. It is argued that finance must be put back on the center of a new contractarian social model that serves people and communities and provides solutions to a wide array of economic and ecological imperatives. Part III investigates alternative models of management by placing the emphasis on social innovation to cope with the pressing societal challenges of the new millennium.