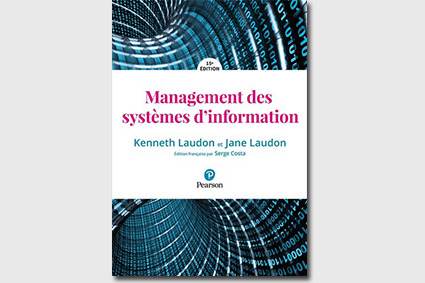 New publication in Information Systems Management
Serge Costa, professor in NEOMA BS Information Systems, Supply Chain Management & Decision-Making department, published the French-language edition of Management Information Systems by Kenneth C. Laudon, Jane P. Laudon, 15th edition, Pearson Publishing, in December 2017.

Publisher's Presentation
Internationally known for its rigor and comprehensiveness, this textbook offers a multi-disciplinary approach to Information Systems (IS). It explains how information systems can improve decision-making and increase profitability by allowing managers to benefit from the IS in terms of strategic and operational management.
The French-language edition is remarkable for its meticulous adaptation of French specifics and more generally European specifics due to having taken into account cultural, economic and regulatory aspects as well as modifying numerous theoretical concepts and offering context for the European market with its collection of case studies.
Highly educational, each chapter offers:
• An introductory case study;
• A summary;
• Different exercises (review questions, synthesis exercises, questions for reflection, e-commerce projects;
• A final case study.
In the 15th edition:
• 100% of the case studies are new or updated;
• Technological advances and their effects have been taken into account: the impact of big data, the emergence of cloud computing and BYOD (Bring Your Own Device) technology, the ever-increasing development of social networks and mobile technology;
• American statistics have been replaced with French, European and global statistics;
• An original development, not appearing the US version, on block-chains is proposed in chapter 10;
• The glossary and bibliography of French and European terms and publications have been updated.
Intended Public: Students attending universities and management schools
Courses: information systems; new information and communication technologies (NTIC)
Level: Bachelor, Master