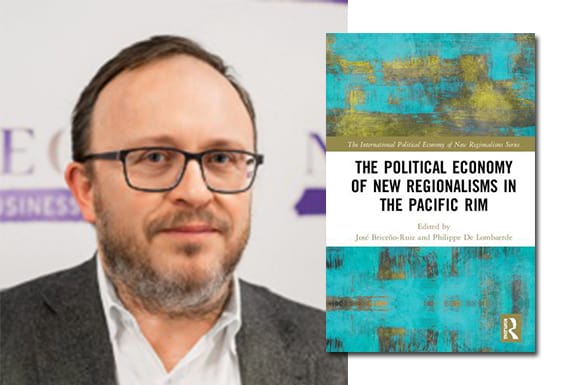 New regional dynamics in the Pacific
Philippe De Lombaerde, professor and co-coordinator of the Europe-Asia Centre of Expertise at NEOMA publishes "The Political Economy of New Regionalisms in the Pacific Rim", co-edited by José Briceño-Ruiz, professor at UNAM (México). The authors present an analysis of the new trans-Pacific economic and political relations, transformed under Donald Trump's presidency.

Emerging new dynamics
Combining an analysis of regionalism from a systemic view with a domestic political-economy analysis, this book sheds light on the new dynamics and emerging configurations of regionalisms and interregionalisms in the post-Trans-Pacific Partnership (TPP) era. Unilateralism and bilateralism have returned to the center stage, at the cost of regionalism, interregionalism, and multilateralism.
The influence of medium powers
Understanding these new dynamics requires closer examination of the underlying domestic political economies. Examining ten country case studies of multi-actor agency at the national level, expert contributors argue that trans-Pacific relations should not only be explained in terms of the behavior of the major powers, but that medium powers, and even small countries, can exert influence and occupy strategic nodes and contribute to shaping a new international relations network. Their findings will be of interest to scholars of international business, international economics, international relations, IPE, and regionalism.
The book has been edited by Philippe De Lombaerde, and counts also with a contribution by Haiyan Zhang and Huai-Yuan Han, all associate professors at NEOMA Business School.
Philippe De Lombaerde and Haiyan Zhang coordinate the Europe-Asia Centre of Expertise at NEOMA BS.

The Political Economy of New Regionalisms in the Pacific Rim
1st Edition
Edited by José Briceño-Ruiz, Philippe De Lombaerde
Routledge (Taylor & Francis Group)
August 2019