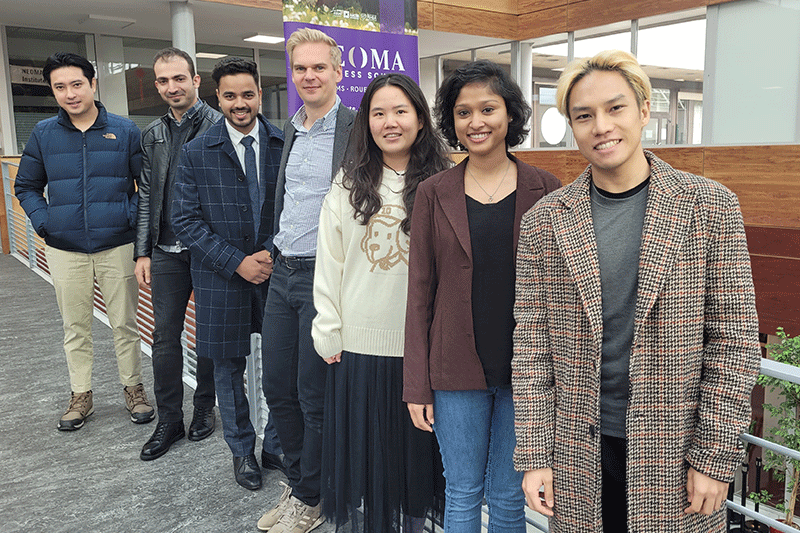 PhD in Management – Start of the Year
Beginning of October, six new PhD students joined NEOMA Doctoral school. They are very enthusiastic about beginning to work with NEOMA researchers. Testimonies.
Coming from India, Iran, China and Thailand, six new students arrived in October on NEOMA Business School Reims campus in France to start a Phd in Management programme.
"We are very glad to welcome six new high-potential PhD students. They will contribute to advancing academic research as well as managerial practices, especially in NEOMA's Areas of Excellence. For the students, it is a great opportunity to collaborate with top researchers." Olli-Pekka Kauppila, Director of NEOMA Phd in Management programme and Head of The Future of Work Area of excellence.
The PhD students will work on their dissertations with NEOMA professors and collaborate on the School's research projects.
"For my PhD, I wanted to work with one specific professor of NEOMA. This is the main reason I decided to join the School and I am so happy I have the chance to be guided throughout my PhD journey by such a great researcher." Jiming Wu.
"NEOMA is a well-known and prestigious school and this is why I decided to join. My supervisors are among the best researchers in my field, which guarantees my future career in Research." Mosayeb Jalilian.
"The unique thing about my Ph.D. programme at NEOMA is the expertise of my supervisor in my field. Besides, NEOMA's support team is very professional and helpful". Teerapun Tadniyom.
"I had worked with my current supervisor in the past and this is what inspired me to start a PhD at NEOMA. He convinced me to pursue into Research and I am glad he did". Daicy Vaz.