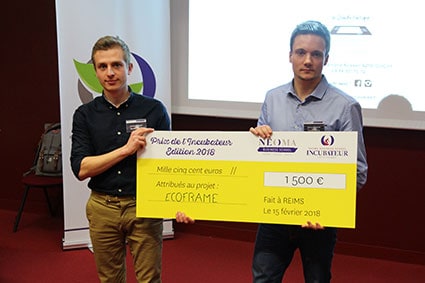 Powered by NEOMA BS-Reims – an event built on creativity!
On Thursday 15 February 2018, NEOMA BS Incubateurs achieved a huge success with their organisation of the eighth 'Powered by NEOMA BS' event on the Reims campus, in partnership with the Student Society, NEOMA Entrepreneurship Club.
This event was a real feast of entrepreneurship and innovation, with the dual objective of:
• Raising awareness among the Reims students of how to create a business
• Enabling the Incubateur start-ups to meet local partners in innovation

After some excellent concerts by listed performers from the Bureau des Arts, the students, partners and start-ups all met to evaluate together the candidates for the Incubateur award, at the traditional pitching competition.

Following this, while the students were invited by the NEC to take part in the creative workshops 'Word your Idea' and 'Serious Game' with the aim of putting themselves in the place of an innovative entrepreneur, the start-ups were developing their network around the village located in the atrium.

Among the partners present, the Caisse d'Epargne Lorraine Champagne-Ardenne was pleased to meet the new project promoters and to give its support to the start-ups well on the way to development. Accompanied by Alain Coulaud, Head of NEOMA BS Incubateurs-Reims, Corinne Dhainault-Croizy, Director of the Commercial Unit of CELCA, highlighted the partnership she has had with NEOMA BS since 2013 and the services available to start-ups from the Caisse d'Epargne:
All those taking part in this great day then gathered for the culmination of this festival of entrepreneurship: a talk by Alexis de Galembert (graduate of PGE08), founder of the start-up La Fabrique-Cookies. With total transparency and lots of enthusiasm, Alexis shared his career path as an entrepreneur by revisiting the start of his career, his successes, as well as his failures, which led him to push the Michel & Augustin brand out of every Monoprix in France.
His presentation ended with the official award ceremony:
Prix de l'Incubateur (worth €1500): awarded to the Ecoframe project led by Bastien Gadenne (M.Sc. student in Global Management at NEOMA BS) and William Decoster, who are proposing to solve the European housing crisis by refurbishing former shipping containers.
Prix du Marathon de l'Innovation organised by the NEC: a Google Home mini speaker for the overall winner and a Steve Jobs biography presented to the three best ideas from the creative workshops.
Congratulations and see you all again next year!