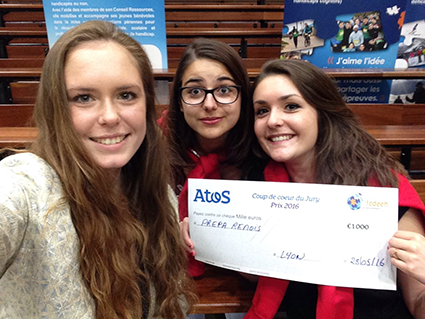 Prépa Rémois, pôle PHARES: Jury's special prize in the ATOS-FEDEEH awards
On 27 May, during a training weekend organised in Lyon by FÉDÉEH, the national organisation for young volunteers working with their disabled peers, various student societies presented their projects to the jury at the 2016 ATOS-FEDEEH awards.


It was the fifth edition of this competition for the best student initiatives helping disabled students gain access to higher education. (https://prix-atos-fedeeh.org/presentation-des-prix/).
The "pôle PHARES," which is part of the student society "Prépa Rémois" at NEOMA BS, Reims campus, whose project was presented by Marine, Julia et Juliette, received the jury's special award, which encourages commendable initiatives, and is worth €1 000 to the winners.
PHARES (Par-delà le Handicap, Avancer et Réussir des Etudes Supérieures) organises student tutoring for disabled young people. It is promoted by FEDEEH, in partnership with higher education establishments. We congratulate our students who are engaged in equal opportunity initiatives, thus anticipating their future role as responsible leaders.