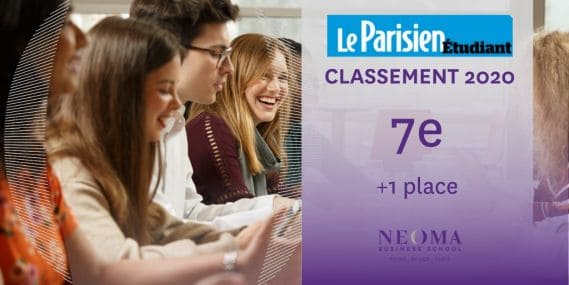 Ranking of Parisian Business Schools 2020: 7th place tied for NEOMA
Le Parisien publishes its ranking of the best Business Schools today and the Master in Management programme is placed in equal 7th place, up 1 position and an increase of 3 places in two years.

In the overall ranking, NEOMA has made progress in the following categories:
• Labels: + 1 point (5/5)
• International network: + 2 points (5/5)
• Pedagogy: + 1 point (4/5)
• Social policy: + 2 points (5/5)

Such progress reflects the implementation of our strategic plan: AMBA accreditation for the PGE, development of our worldwide network of partner universities, ambitious scholarship policy...

For specific themed rankings, NEOMA features mainly in :
• International profile of the Faculty : 3rd place
• Entrepreneurship : 3rd place

Le Parisien's editorial also features an interview on the School's forthcoming new academic year and an interview with Isabelle Chevalier on Peer Learning.



"NEOMA Business School has successfully rounded off the 2019-2020 rankings season with a further improvement or consolidation of its position, as in all of this year's rankings" says Delphine Manceau, Dean of NEOMA "Including two 7th places and one 6th place , therefore confirming the School's positioning as a major challenger to the top business schools".




NEOMA in French Rankings 2019-2020 (Master in Management programme)
L'Etudiant: 7th place (=)
Le Figaro: 8th place (+2 places)
Challenges: 6th place (+1 place)
Le Point: 8th place (=)
Le Parisien: 7th place (+1 place)