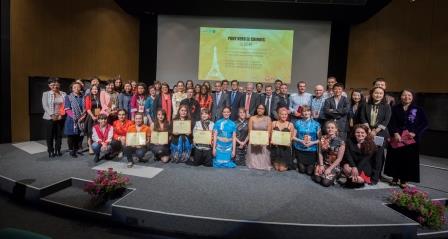 Report from the French phase of "Chinese Bridge"
Organised on our Rouen campus, the 15th edition o

f this international competition was held on Saturday 28 May 2016. The "Chinese Bridge" initiative aims to encourage students to learn Chinese and find out about Chinese culture.





This year, the French final brought together 26 students from 14 French institutions that had got through the preliminary rounds in different Confucius Institutes. These included two students from our BSc in International Business programme. On stage they, were tested on their knowledge of Chinses language and culture.



"On stage today, these students demonstrated their passion for Chinese culture. As Dean of a Grande Ecole, it is a pleasure for me to see these talented young people committing themselves so fervently to the discovery of such a rich language and culture," explained Frank Bostyn, who attended the event. "Their passion impressed me, and is an indication that Sino-French relations have a bright future, a future in which NEOMA Business School intends to play a significant role."



The Confucius Institute worked hard on the organisation of this major event.

"It was an enormous pleasure to welcome the participants in "Chinses Bridge," which is an important competition, and has become an essential part of our mission as a Confucius Institute to promote Chinese language and culture,"

enthused Madame Li

, Co-Director of NEOMA Confucius Institute for Business - Rouen. "It is remarkable to see the level that some of the students have reached in very little time; it proves the enormous interest of French students for China."



A panel of experts se

lected 3 stud

ents who will fly to China for two weeks in July to represent France in the final of the competition.





Camille BUATOIS, student from the BSc in International Business who represented our Confucius Institute won an honour price for the best artistic talent.





Also in attendance at the event were M. François Xavier Priollaud, Vice-President of the Normandy Region for International Relations, Laurent Bonnaterre, Councillor of the Rouen Normandy Metropolitan Area, responsible for International Relations and Devolved Cooperation, and M. Ma, Minister Councillor for Education at the Chinese Embassy in Paris.