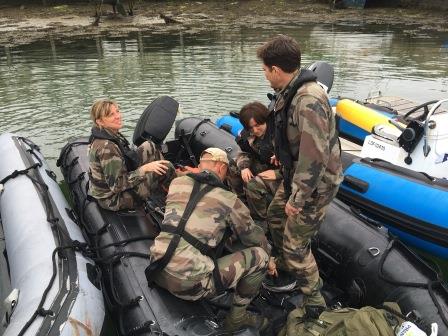 Report on the Executive MBA Leadership and Strengthening course
The NEOMA Business School Executive MBA Leadership and Strengthening course organised with the French school for "Fusilier Marins" (naval infantry) took place on 21-24 June. For this experiential learning highlight of the course, students in year-group 21 of the Executive MBA travelled to the French school for "Fusilliers Marins," based in Lorient. Led by representatives from the French Navy, they took part in a three-day course made up of simulation exercises and debriefing sessions.

For the occasion, and to share the "Made in NEOMA BS Experience," the School invited two journalists and a photographer to take part in this unique seminar.

Adaptability, emotional stability, decision-making, and the ability to act in uncertain, constrained environments and to keep a sense of perspective were at the heart of the discussions and exercises making up the course.

Immersed in the group of students, the journalists were able to "go backstage" at this seminar, which is not made up of gruelling physical exercises; the main objective is to work on psychological aspects and the students' ability to adapt.

The exercise, which takes place at the end of the course, is based on teaching methods inspired by how officers are trained at naval school. The students' physical and psychological limits are tested in situations of increasing constraints and complexity.

The leadership course with the Fusiliers Marins showed the students the importance of effective, simple communication to the team when facing danger, tiredness, or simply the unknown.