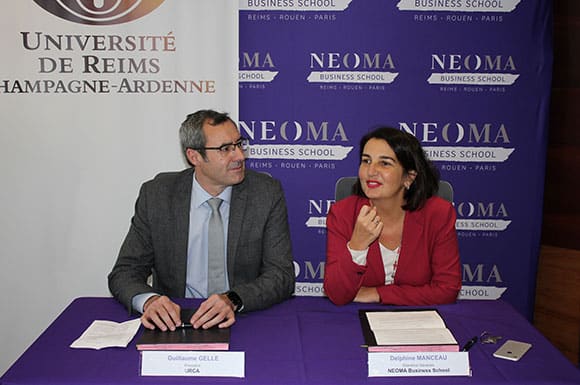 Signing of a doctoral partnership with the University of Reims Champagne-Ardenne
The partnership between NEOMA Business School and the University of Reims Champagne Ardenne has been strengthened. PhD students from either establishment will now be able to follow one another's doctoral programme. The agreement aims to make either partner's doctoral programme more attractive both nationally and internationally.

The agreement, signed on 28 January 2019 in the presence of Guillaume GELLÉ, President of the University of Reims Champagne-Ardenne (URCA) and Delphine MANCEAU, Dean of NEOMA BS, will make doctoral studies more attractive on a national and international level.
The objective of this 5-year partnership is to combine the skills and know-how of both institutions. Doctoral students from our School will be able to join the URCA HSS Doctoral School while doctoral students from the URCA will be able to join the NEOMA Business School PhD programme. This will enable URCA doctoral students to obtain international recognition and NEOMA Business School doctoral students to obtain European recognition.
Upon completion, students will be able to apply for teaching and research positions or join research centres or departments of big companies.
By making doctoral research more attractive nationally and internationally, this partnership also contributes to the enhancement of the region's reputation by attracting more long-term students.