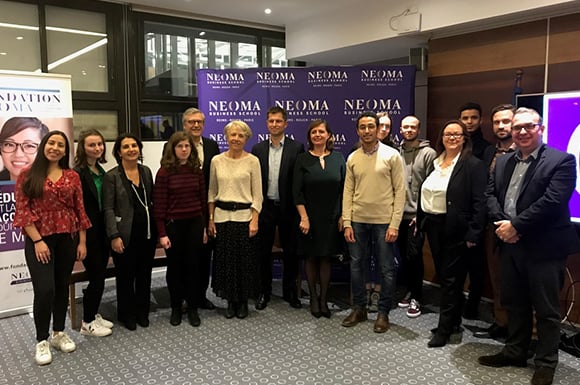 Special Scholarships Events initiated by NEOMA and the NEOMA Foundation
The School's Directors and the NEOMA Foundation, hosted a discussion event on the theme of diversity on January 20th in Reims and January 23rd in Rouen, for partner companies and students on scholarships to talk about their respective ambitions.

In a relaxed and informal atmosphere, Delphine Manceau, Dean of NEOMA, and Jacky Lintignat, President of the NEOMA Foundation, had the pleasure of welcoming the companies involved in the new scholarship scheme recently set up by the School. Xavier Belet, PwC Partner, and Alexandra Thirion, Director of Human Resources Development at the Caisse d'Épargne Grand Est Europe, were both present on the Reims campus on January 20; and Adélaïde de Tourtier, Director of Social Commitment at PwC, and Nicolas Desurmont, BRED Banque Populaire's Regional Director for East Normandy, attended the event on January 23 in Rouen.
The meeting provided the perfect opportunity for Delphine Manceau to highlight the School's pledge that: "no student who has passed their entrance exams should have to give up their studies at NEOMA for financial reasons". This commitment is fully shared by PwC, and Xavier Belet, a graduate of the School, reiterated the auditor's long-standing support: "as a founding member of the NEOMA Foundation, PwC has always been committed to diversity and equal opportunities, to provide students with the chance to continue their studies at a leading school like NEOMA."

The first round-table discussion gave those students on scholarships the chance to fully understand the implication of the School's partner companies in terms of recruitment and diversity, and also to see the important role company support plays in NEOMA's social commitment. This event was followed by a networking cocktail for the Foundation's sponsors and those French and international students who have received International Excellence and Social scholarships.
"I was delighted to have the chance to attend this Special event organised by the Foundation and talk to the School's directors and partner companies. It was an opportunity for me to express my gratitude to the donors and corporate sponsors and explain my ambitions," says Aurore LEAUTE, a 1st-year School scholarship student on the Master in Management programme.