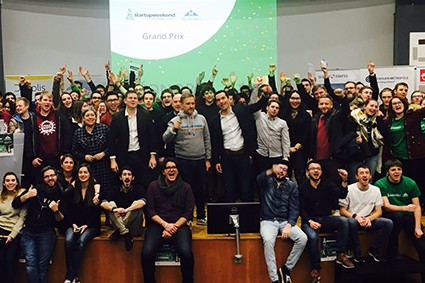 Start-up Weekend: a new edition dedicated to Education
From February 2 to 4, 2018, nearly 100 students from engineering, communications, business, and web development schools gathered together for a major entrepreneurial event. This Start-up Weekend, organised by Normandy Web Experts at the Rouen CESI, and in partnership with the Ascencium Association, ISCOM, NEOMA Business School and ISD Flaubert, was entirely devoted to education and student life.

What was the goal? 54 hours of competition to create THE innovative concept that would revolutionise the world of tomorrow!
For this occasion, 12 multi-disciplinary teams faced off. Four of them were honoured with a prize.
Grand Prize: ELEONORE project which modified homework assignment aids by using chatbot, thereby putting digital technology to use for high-quality personalised education.
• Training programme of "5 days for work and development" offered by CCI Rouen Métropole
• Membership in the #NWX community with one year of co-working access.
• €50 given to each member of the team by Marché Privé, a start-up powered by NEOMA BS Incubators.
Jury Favourite Prize: Mookey project, which used Google Home technology to enhance corrections.
• Entrepreneurial support with the Start Hub at Cainte Numérique #NWX, with one year of co-working access.
• A starter/main dish/dessert meal offered by the Rouen restaurant Made in Normandy.
Innovation Prize: Cocorico project, headed in particular by Nam Ngo and Léo Visconti, NEOMA Business School students. Cocorico offers small training programmes to seamlessly complement a person's skills in a given profession.
• A Google Home given to the entire team by the Sopra Steria.
Best Pitch Prize: Daacoach, the app that will revolutionise accompanied driving.
• A graphic novel or manga comic offered by the start-up La Box BD, powered by NEOMA BS Incubators
• A sourdough bread baking lesson offered by Faites-le vous-même

The project Greens'Cool, led by Enactus, received the jury's attention for its concept of providing school teachers access to pedagogic tools that teach students about ecology and responsible consumption.
A big thank you to all the partners without whom this wonderful edition would not have happened, and congrats to all the participants for their motivation and their innovative ideas. We'll see you soon for the new edition!