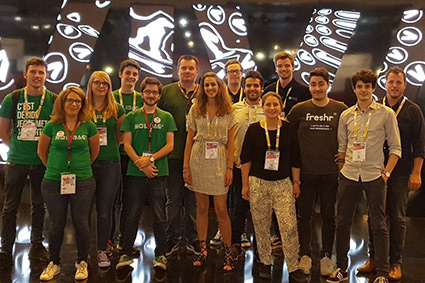 Start-ups in NEOMA BS Incubator presenting at VivaTech!
With this year's focus on augmented reality, artificial intelligence and digital innovation in general, Viva Technology, the famous global exhibition for start-ups, was held from June 15 to 17 in Paris. It was an opportunity for twenty start-ups from the NEOMA BS incubator to present their products and meet with entrepreneurs from diverse fields.

« The three-day programme consisted of pitch sessions, inspiring expert conferences, demonstrations and time set aside for networking.
It was an eye-opener for the young entrepreneurs who are still developing their ideas. This was the impression held by Clément Amedro, founder of HOPE TO, an incubated start-up. "This exhibition was a real revelation for me. I discovered the technologies of tomorrow there, ones that future consumers will use on a daily basis, and it pushed me to revise my business plan."
For François Jolly, chargé d'affaires at the NEOMA BS incubator, this event was a well of information for start-ups in incubation. "Vivatech helps start-ups form relationships with a wide range of companies that have a specific start-up focus, compare their concepts with all the others presented at the exhibition, meet and talk with representatives from different regions that are well represented at the exhibition (Normany French Tech, Ile-de-France CCI, etc.), receive important information from support bodies like INPI and BPI, and of course pitch their ideas to investors and discuss them freely. And they can do it all in one place. Vivatech gives developing start-ups a real opportunity to grow."
Come next year for a new innovation exhibition!