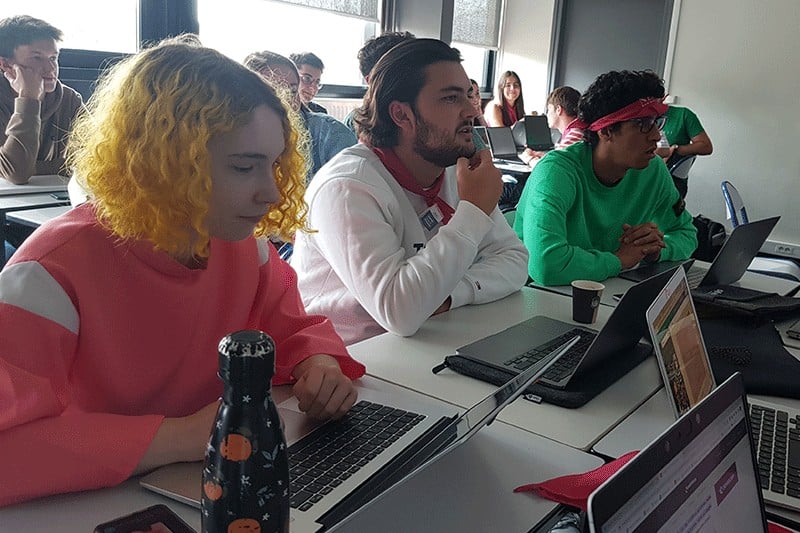 Starting days: 3 days to learn
At the start of September, NEOMA welcomed 950 students starting their first year of the  Master in Management (MiM) programme. During the three festive yet studious days of integration, the students took creative workshops, learned to pitch business ideas and worked on a common project. Here's a report on this intense seminar.
In her opening remarks, Delphine Manceau, NEOMA school dean, reminded the young students that they were going to have a "transformative experience." As of that moment they should be ready to discover the world of business and leave behind their place as observers to become players. "Today's main challenge for businesses is to transform themselves to deal with climate change, the energy crisis, as well as economic and geopolitical tensions. You, the new generation, will have an important role to play."
"Your choices will be guided by your aspirations, and your commitment to your studies will be key in making these choices a reality," said Céline Davesne, associate dean of programmes and international affairs.
"NEOMA professors will bring their international experience into the class. They are also passionate researchers who will bring new ideas from all over the world," said Fabio Fonti, Associate dean of Faculty and Research .
"With NEOSMART, you will experience peer learning. You will learn from each other. You can become a mentor in the fields where you have knowledge and experience, and be mentored in other fields where you feel you lack these skills," said Anne-Sophie Courtier, associate dean of the MiM programme, director of MSc programmes.
It was a studious seminar for the start of the year, and after three days, the students had to present a first website. To learn programming basics and two of its languages (HTML and CSS), they relied on the NEOMA Coding School. "A large part of future professions will be based on software and data knowledge," Stéphane Motte, the Coding School manager, said. "It's vital for seeking jobs, talking with engineers or with upper management in a company."
Henri-François Martin, 2011 MiM graduate, Chief of Staff at PayFit  
"If you make decisions based on your values, things that are important to you, that drive you and make you want to excel, you will head, in one way or another, towards personal and professional growth."
Remarks from Sandrine Conseiller, 1995 NEOMA MiM graduate, class sponsor.
"You're needed inside companies to help things change and progress. That's the only way to change the world that we live in. It's you and your generation that will make it advance."