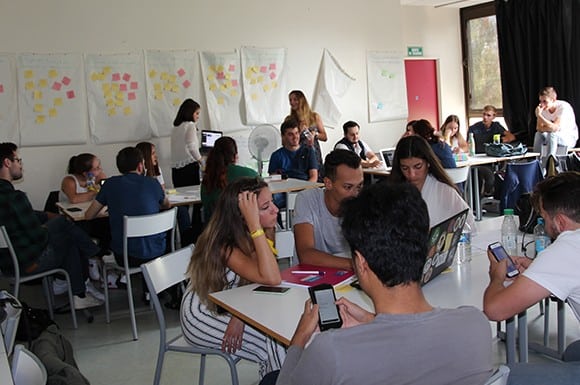 STARTING DAYS: innovative and experience-based pedagogy
STARTING DAYS is the integration seminar for 1,100 first-year students in the Masters in Management Programme, divided up on the Reims and Rouen campuses. From the moment they arrive, they are plunged into a teamwork situation and have 4 days to find a solution to a social entrepreneurship challenge.
Split up into teams and supported by coaches, personal development and/or entrepreneurship professionals, the students go to work on a project that, based in a territory, must contribute to the sustainable improvement of the living conditions by uniting an economic model with social utility.
"There are many concerns at Starting Days. First, creating a team spirit, a class spirit, to ensure that at the end of four days, all the students have at least one friend, or more, and they all feel comfortable at school.
"The second concern is that NEOMA has been committed to an extremely pro-active ecological and social transition approach. We want the students, from their first day, to become aware of the difficulties with this transition. And among all the CSR subjects, social entrepreneurship is the one that best matches with our third objective, which is to expose the students at the start of the school year to innovative and experience-based pedagogy and to their first efforts to work as a team in order to quickly establish the beginnings of a project," Isabelle Chevalier, NEOMA BS Talent & Career director, said.

Support and professional methods
In order to inspire the students, the seminar begins with a round table focused on social entrepreneurship and solidarity and social economics with speakers including Matthieu Dardaillon from Ticket for Change, Diane Scemama and Claire Chouraqui from Dream Act and Marianne Urmès from The Boson Project, among other accomplished social entrepreneurs.
Then comes their turn to work as a team. By following the territory's start-up method, the students select a challenge, first going through a brainstorming phase where all ideas are tried out, then a convergence phase during which the team has to come to a consensus.
Then it is time for economic modelling using the business model CANVAS, in its social version co-developed by ENACTUS France, a partner of Starting Days.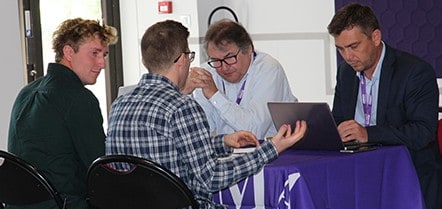 The students then submit their project to the Village of Experts, who put it through a pragmatism filter involving criteria such as social impact, innovation and up-scaling potential
"As an expert, we provide feedback based on our knowledge of the social entrepreneurship sector, which gives us a more informed perspective on the project itself. Is it more substantial than just an idea? Can one imagine a model that is long lasting and has a real sustainable and social contribution to the territory?
"More and more, the subject of social entrepreneurship, sustainable development, etc. has become a phenomenon within society. For me, focusing Starting Days on this subject is the perfect example of how business schools have become aware that future economic models are emerging and that we need to look at the world differently than how we saw it before. Society needs to be reinvented. It's also a way of creating professions among our students who would necessarily be orientated towards this sector, if we did not show them what is out there," David Leroy, manager of Set Up (Set Up is an alternative to traditional entrepreneurship, allowing entrepreneurs to create their own businesses safely in a cooperative company. https://setup-cae.fr/ )

Once the project has been validated, the students must present it in front of a jury of professionals and convince them.
Involved students
The second-year Masters in Management students have worked through all of the concerns, which they were able to identify after finishing their first year in Reims or Rouen. They also play a role of facilitators during the entire seminar: 130 students from the student society entrepreneurship track actively assist the teams in developing their solution.


Partners at our side
It's a jury made up of partner companies like Caisse d'épargne Grand Est Europe, Caisse d'Epargne Normandie, Matmut and partner organisations like ENACTUS France, Start Up de Territoire, MOUVES, France Active, CRESS, ADRESS, METROPOLE Rouen and URSCOP who got together at the end of the seminar to select the best projects.
"We have been partners with NEOMA BS since 2008. Investing in Starting Days is for us a chance to become immersed with young students and meet future talents who will maybe become employees of Caisse d'Epargne one day," said Corinne Dhainaut Croisy, sales department director, Caisse d'épargne Grand Est Europe.
The NEOMA BS incubators are also a stakeholder by helping the teams in the structuring of their projects and offering to incubate the best ones. More about NEOMA BS Startup Lab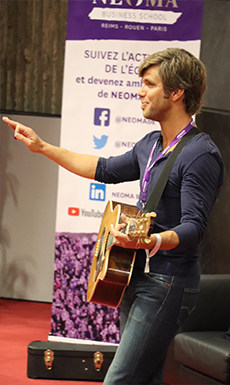 Coach Portrait
Jonathan Di Menna, Starting Days coach for the third consecutive year
After an initial career in high-level sports, first as a footballer then as a sports manager, Jonathan focused on a musical career. Today, he is an author, composer, performer, guitarist and singer who defines himself as a jack-of-all-trades musician. "I love playing everything, anywhere, live, to all kinds of audiences of all sizes." He is also a music manager who organises concerts and musical events.
From a sports manager to a music manager, he finds the same motivation in Start Days coaching: the taste for personal growth, the pleasure of meeting people.
"It is pleasurable to work with our coaches and the team from NEOMA BS Talent & Career, and with the students, it's pure rejuvenation! Taking into account the age difference and discovering their hopes and expectations lets you reconnect with different generations. Also, as a self-learner, I know very little about the world of higher education. Aside from acquired skills, the concept of "who you are" is so vital."
He leads 500 students and Starting Days supervising staff in an a cappella session, during which the rows in the large NEOMA BS theatre sing back, finally forming a collective voice to the rhythm of his guitar. The strength of the collective in emotional harmony!
As a lecturer in music therapy in social-medical organisations, this year's Starting Days theme of social entrepreneurship makes sense to him. "I'm not an intense activist, but every day I make an effort to make a difference on my own level. Social entrepreneurship is an essential part of today's world."

More about Starting Days:
- At NEOMA, the start of the new school year is synonymous with Starting Days!
- The Green Team on a mission to promote social responsibility amongst new students
- STARTING DAYS: public speaking
- Boosting social entrepreneurship: focus on the Starting Days Incubator Awards