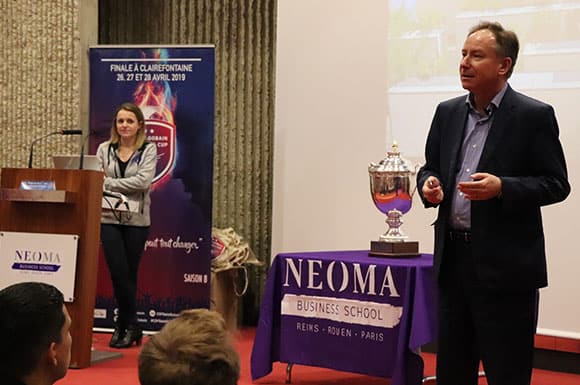 Sustainable housing, the impact on the planet, the role of digital technology….. this is Saint-Gobain!
For the 2nd round draw of the Saint-Gobain Football Cup, the French Women's Cup for Business and Engineering Schools, Saint-Gobain, one of the School's business partners, paid a visit to the Reims campus to meet the students. The perfect opportunity for students to learn more about the company and receive expert professional advice on their recruitment needs.

Gilles-Henri Dubouillon kicks off his presentation at 3pm on Friday 28 February. He has made the trip to the Campus of the holders of the Saint-Gobain Football Cup with his French teammates for the second round draw of the 2019 tournament. As the Group's Global Acquisition Talent Director, he has comes to talk about his experience, introduce the company and discuss his vision of work in a an ever-changing world to the NEOMA BS students.
"In my opinion, some key trends are emerging and you have to be aware of them when you apply for a job in a company. First of all, we are in a global context where the rules of globalisation dictate the game. This concerns a range of issues, starting with Sustainable Development. When we know that 40% of CO2 emissions are produced by our homes, joining Saint-Gobain, for example, means having an opportunity to limit our impact on the planet. As such, there is a real meaning to such an approach. All the more so when we agree on the fact that the population is growing and living more and more in urban areas. Finally, there is the digital aspect. As we all know, this is already transforming the current landscape. And above all this will have an impact on tomorrow's jobs. Applying to a company today means being aware that the job you will be doing in 2030 may not exist yet... It is therefore important to plan ahead to be part of an agile work environment…", explains Gilles-Henri Dubouillon.
Soft skills, the spearhead of today's job applications
In this constantly evolving professional world, Gilles-Henri Dubouillon invites candidates to highlight their soft skills. "When you leave school we do not necessarily expect highly qualified candidates. Once you graduate from a business school like NEOMS BS, you master some essential skills, but you still have things to learn on the job. For me, when you apply for a job, one thing that can really make a difference is your ability to work in a team, to be a leader who knows how to listen...these are what we call soft skills and which do not necessarily come naturally. You have to work on them!" To conclude his presentation, the Director of Worldwide Talent Acquisition for the Saint-Gobain Group recalled the importance of finding a company that corresponds to your values. "You will be working at least 8 to 9 hours a day in a company... I therefore advise you to choose one that shares some of the values you strongly identify with. Once you have found it, one last piece of advice: Have confidence in yourself! Because with confidence, you can move mountains."

Lively and meaningful discussions
To support Gilles-Henri Dubouillon in his presentation, the numerous SAINT-GOBAIN team members were on-hand to talk to the students and advise them on their applications. Individual interviews, CV review workshops, advice on how to conduct a successful interview, creating a LinkedIn profile…. The students received a lot of useful advice and practical information on how to apply for future internships, work-study periods or employment offers..... And why not with Saint-Gobain! All their recruitment offers are listed on the plateform dedicated to our students.

Football brings the day to a close
From 6pm, football was the order of the day with the appearance of two former world football stars: Marinette Pichon and Vikash Dhorasoo. During a round table discussion chaired by the media journalist, Darren Tulett, the two former athletes discussed their past experience and passed on advice about stress management in particular. The day ended with the draw for the 2nd round of the Saint-Gobain Football Cup. The NEOMA BS Reims team will not be taking part in this round. Indeed, as holders of the title, the girls have already qualified for the Final 6, which takes place from 26 to 28 April at Clairefontaine.

You can find all the Saint-Gobain Football Cup results and full table of on the Facebook page of the Event.