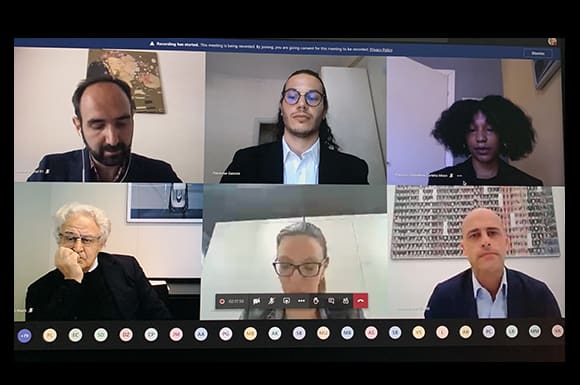 Taittinger and Prada projects: glamorous business cases for IMLux students
By working on real business case study resolutions for Champagne Taittinger and Prada Group, the two prestigious partners of the International Master in Luxury Management programme, students were able to significantly enhance their professional skills.
Taittinger project 2020: e-commerce
Students were asked to come up with a successful business plan for an on-line boutique over a three-year period. They had to provide the family firm with recommendations and suggestions that could improve the overall user experience of its current website and create a positive user journey that aligned with its existing marketing strategy.
During the first semester in Reims (September-December), students worked on the internal and external analysis of the brand. They had to focus on luxury consumers in the French and key European markets, notably the UK. The project included creating a survey for website users so as to find out more about customers' needs.
During the second semester in Milan (January-July), students had to develop a turnkey solution integrating distribution, e-commerce, communications, digital strategy and financial projections.  

Prada project 2020: Fashion Pact
Students had to work on an extremely stimulating assignment: help the luxury group integrate the objectives of the Fashion Pact into its organisational and operational strategies.
As one of the signatories of the Pact, Prada and its suppliers had made a commitment to embrace environmentally responsible practices. For this purpose, IMLux students were divided into three clusters, each with a precise goal:
Education: to design methodologies so that the Pact could be taught internally to all the different Prada divisions.
Performance: to establish concrete and scientific indicators to measure Prada's environmental achievements in various areas.
Innovation: to create a library of smart, innovative and scalable materials as well as techniques.
The final presentations by the students took the form of a two-hour long webinar attended by several top Prada executives including Carlo Mazzi, Group President, Lorenzo Bertelli, Marketing Director and son of Prada's founders, and Massimo Vian, Production Head.

Because of the Pandemic, students had to work on both projects online throughout the second semester. While this represented significant challenges for the different groups especially because they were located in different zones, Claire Sarazin, Communications Manager at Taittinger felt that "it resulted in more rigorous and creative presentations". Coaching and briefing sessions also tended to be more efficient.

Carlo Mazzi, perfectly summed up the philosophy underlying the IMLux projects: "I believe that sharing our ideas with young university students is always a good method for verifying and improving them".

>Learn more about NEOMA International Master in Luxury Management, a double-degree with MIP Politecnico di Milano in partnership with Champagne Taittinger and the PRADA Group.