TEMA students visit the Village by CA in Reims
Beginning of March, first year students from NEOMA TEMA programme discovered the Village by CA in Reims. A look back on the visit much appreciated by the students who were particularly interested in the aspects of innovation and entrepreneurship, two key elements of their programme.

TEMA students were given the fantastic opportunity of visiting the Village by CA, the Crédit Agricole Nord Est's start-up Accelerator in Reims.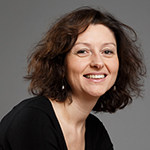 "This visit was organised as part of the Tech Tour, a company visit scheme designed to introduce TEMA 1 students to different types of organisations in a variety of sectors of activity and to show them how things actually operate in the real world," says Anne-Laure Hérard, Director of the TEMA Programme.
Amélie Mahaut, the Village's Communication Officer, introduced students to the Village set-up, before taking them on a tour of the different areas: the Village square for co-working and informal discussion, the auditorium, recording studio, creative room and finally the start-up offices.
"The colourful, modern environment, full of positive messages on the walls, is an invitation to be creative and highly appreciated by the students," says Anaïs Alijani, Head of TEMA Promotion and Recruitment.
The students were then fortunate to hear start-up pitches by two creators currently receiving support from the Village by CA: Pick-in, a communication app. for shopkeepers, and Initial expertise, a company specialising in concessions and electricity distribution networks.
Many students were particularly interested in the pitches and quizzed the two founders about their entrepreneurial adventures. As well as receiving advice on the financial issues related to setting up a start-up, the students also learned about the human dimension of entrepreneurship. The two entrepreneurs declared that they were both still in the learning phase and insisted on the need to be surrounded by a range of people from different backgrounds on whom they could rely on for advice and assistance.
Finally, as the discussion came to an end, and as a perfect illustration of this need for contact and exchange, the two founders suggested keeping in touch with the students to answer any questions about future projects or even for a internship in their start-ups!
>Learn more about TEMA at NEOMA Business School, a 5-year bachelor programme offering a triple skillset in management, digital technology and creativity