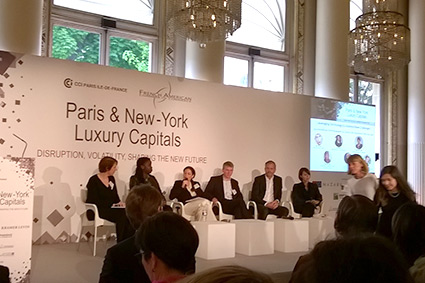 The French-American Luxury Symposium: "the place to be!"
And NEOMA Business School was there! This past May, the second edition of the French-American Luxury Symposium: Paris & New York: Luxury Capitals, was held in Paris and organised by the Paris Ile-de-France Chamber of Commerce and Industry, in partnership with the French-American Chamber of Commerce in New York.

Marie-Laure Dahan and Kandice Cordner-Wuilleme, career consultants at the Talent and Career Development Unit at NEOMA Business School participated in this gathering. It was a special opportunity to meet more than 150 French and American luxury industry executives: experts, innovative brands, specialised high-end buyers, etc.
The morning round tables brought together presenters from Luxurynsight, Vendôme Global Partners, Antoinette Lemens Executive Search, Exane BNP Paribas, Christian Louboutin, JLL, WWD, Oréal, Dassault Systèmes, You & Mrs Jones, fifty-five, Oaklabs, Tangible Display, Sericyne, Fitle, Mazars, HEC Paris, Sterling International, Louis Vuitton, InterLuxe, The Boston Consulting Group, ESSEC Business School, the French Federation of Ready-to-Wear Tailors and Fashion Designers, etc. They presented their expertise concerning the theme of "Volatility, Disruption, Shaping the New Future" in this transitional period where digital technology is transforming traditional marketing models.
Then, that afternoon offered the chance for our consultants to network with numerous luxury industry players from Paris and New York at lunch and during speed meetings (20 minutes talking one on one with each expert).
Learn more: http://www.parisnewyorkluxury.com/