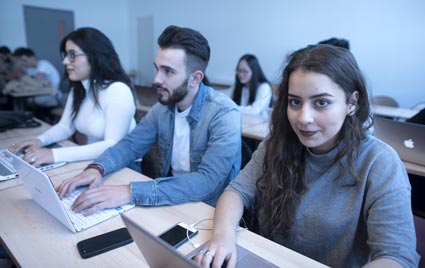 The Global BBA, a new Bachelor programme for 2018
NEOMA Business School is launching a four-year Global BBA with a strong international bias, to train multiple-skilled managers.
A flexible, wide-ranging, four-year international bachelor programme
The NEOMA Business School Global BBA offers comprehensive training combining the fundamentals of management, experiential learning, company immersion and international experience while proposing a wide range of possibilities so that students can construct a syllabus adapted to their needs and expectations.
"Agility is very essence of the Global BBA! We have designed the programme to enable our students to develop and experiment, to learn and test their skills and knowledge," explains Sarah Cooper, Director of the NEOMA Business School Global BBA. "So they can capitalise on their experiences and gradually, as they discover their abilities, plans and motivations, develop solid professional expertise."
The Global BBA proposes:
Course delivery mainly in English
The possibility of continuing or beginning second and third modern languages
One or two semesters abroad in the second year
Up to 12 months of internships in France and abroad, including a compulsory internship in a start-up.
Different specialities to answer students' specific needs and desires:

Entrepreneurship track
NPO track

A choice between Masters or Business tracks in the fourth year depending on whether students want to continue their studies or enter the job market immediately
The first cohort of NEOMA Business School Global BBA students will arrive in September 2018 on our campus de Rouen and Reims campuses. Recruitment for the Global BBA will take place via online application.
Discover the complete GBBA syllabus.