The Global BBA starts the school year with the NEOMA incubators
Published on 06 October 2020 by NEOMA
The 400 first-year Global BBA students started their programme on the school's three campuses with a "Born Global" seminar focused on business creation and organised by the NEOMA incubators.
Having only just entered university, the new GBBA students jumped into a three-day exercise: playing the role of a start-up entrepreneur at the head of an innovative company that plans to break out onto the international market! It was a committed, meaningful exercise, Sarah Cooper, Global BBA director, explained. "There are several aspects to take into account in the format we've adopted this year. The first aspect is the training for both group work and projects. Throughout their studies at NEOMA and in companies, they need to be able to work on projects alongside other people. The second is teaching them the values of entrepreneurship. Through this role-playing exercise, the students developed their creativity and had to solve realistic problems, propose ideas, demonstrate their versatility—simply put, bring genuine added value to the project as well as the team".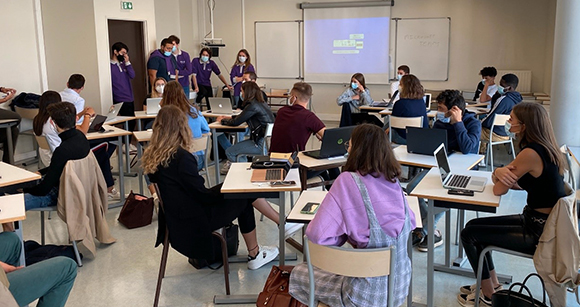 In three days, coached by start-up entrepreneurs from the school's incubators, all of the new students went through the process of creating a business, starting with design thinking for proposing feasible ideas. Then came the Go To Market stage that defines the strategy, the target, etc. Finally, there was the art of the pitch for presenting their concept before a jury.
They were also able to find inspiration in various conferences (done through videoconferencing, required due to the current public health situation):
·         Feedback on a "Made in NEOMA" success story, by Etienne Boix (MiM '14), co-founder of Quitoque
·         Stress management, by Inès Vanderschelden (MiM '15), co-founder of Yo'Time
·         Food tech innovations, by Olivier Rousseau (MiM '14), founder of FlycupandFrançois Jolly (GBBA '09), director of NEOMA incubators
·         Go To Market, by Philippe Blanchot (MiM '17), co-founder of La Friche Gourmande
·         Art of the Pitch, by Victoria Benhaim (MiM '14), founder of I-LUNCH
·         The tools of creativity, by Quentin Le Gall (MiM '19), co-founder of Sauce Moutard
"The week was really great," Safir Hanafi, co-founder of the start-up Lok-Iz and coach at the NEOMA Rouen incubator, said. "These young students changed so much in just three days! At the beginning, they didn't know anything about starting a business. Then during their jury presentation, they were able to talk about strategy, development, roadmaps, financing, business plans, business models and much more. Certain teams even created a website out of scratch! I was very impressed by their commitment and the quality of their work!"
This feeling was shared by Sarah Cooper. "The week was quite a success. The students gained some great experience and motivation, which helped them to quickly integrate into the school's environment in an enjoyable way. This was even more important given the current situation with the students starting their courses by alternating between in-class and remote learning just after the seminar".
Thank you to the NEOMA start-up entrepreneurs who assisted the students: Morgan Ammar (MiM '18 – Cassette), Thomas Playe (MiM '22 – So Far), Clément Lemaire (GBBA '16 – Quiiet), Martin Crégut (MiM '21 – PicMe), Dalila Hanafi, Lamia Hanafi (MSc Global Management '09 – Lok-Iz), Vincent Rouxel, Gabriel Ruff (MiM '21 – PicMe), Julian Amar (MiM '21 – PicMe), Samy Bouguern (MSc International Project Development '18 – Wekicks). And to all those who gave inspiring conferences.
>  The Global BBA at NEOMA Business School, Entrepreneur of your own talent
> The Start-up Lab at NEOMA Business School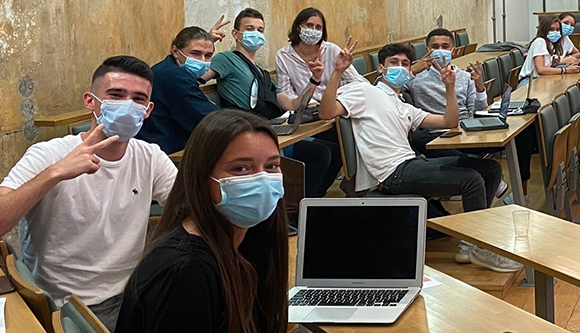 Associated programme
Global BBA – Bachelor in Business Administration
Develop your business understanding, cutting-edge professional expertise and broaden your horizens to become a manager of tomorrow with this leading undergraduate programme!
Reims ou Rouen ou Paris 1st year

4 years

English / French / Language of the academic partner

High school secondary diploma (equivalent to A levels, International Baccalaureate…)

1st year programme admission: via the Concours SESAME

Full time - Apprenticeship possible for 1 year (4th year) or for 2 years (3rd and 4th years). The Apprenticeship Track is subject to a selection process after admission.

Bachelor Degree in Business Administration (4-year Bachelor Degree) / Level 6 qualification on the RNCP (French Register of Professional Certifications) / RNCP sheet No. 36326, International Development & Entrepreneurship programme