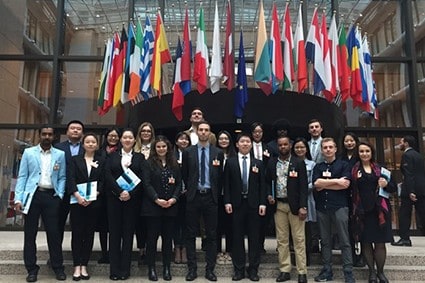 The news from Brussels: MSc Global Management on the go!
The effects of Brexit and the digitalisation of banking were at the focus of conferences and meetings at the annual study trip of the MSc Global Management. Destination Brussels and a deep dive into the news for these young students of NEOMA BS.

Serge Mores, Business Manager at ING Bank discussed major shifts in both investment and retail banking as digital innovation floods the markets and the workplace. At Thomson-Reuters Europe headquarters, students were able to literally visualise this new exciting environment with EIKON, the company's flagship solution for financial analysis on desktop and mobile. Since the days when pigeons flew messages, up to our times of "fake news", trustworthy and fast information is at the heart of Reuters, in a way that is both moving and reassuring.
At the European Institutions, the recent European Leaders Summit was on top of the agenda. As the UK negotiates leaving the Union and the European project questions the future, focus is on going forward to better serve the EU founding values of peace, freedom and balanced economic growth.
"Working around the same table where top political decisions are negotiated, I was deeply inspired. On each company visit, during each conference, I saw another new possible role for myself in my career path. Experiencing the global professional arena from the inside is what makes this programme so special for me", says Clara SOLE, NEOMA BS MSc in Global Management student.