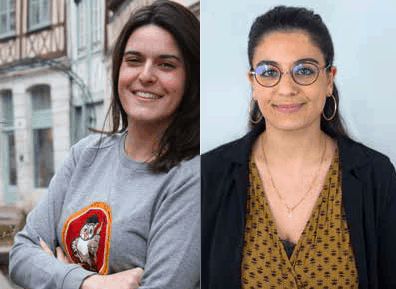 The social support commitment of students, a vital concern
Student commitment to social projects has become an essential part of their studies, their life, and perhaps one day, their career. Here are the portraits of two students who were presidents of student societies that take up different, yet vital causes: the opposition to inequality.
Proud to study at a school that is such a strong symbol of social inclusion
CÉLIA BERNARDO, In the student society track of a Master 1 programme at NEOMA BS, Rouen campus, President of Envie d'Sup (2019-2020).
NEOMA's student society life is one of the reasons Célia Bernardo chose the school:
"At the end of two years of a preparatory classes, I felt the need to commit my time and efforts to something." Her path led her to take greater interest in equal-opportunity initiatives. "I come from an underprivileged town in Essonne," she said. She is the first one from her family to go on to university and she "wants to tell all the young people that they also have the chance" to keep going with their education. She became involved in the Envie d'Sup society, and was its president from May 2019 to May 2020. Her mission was to support secondary school students in developing their personal and professional paths. This first meant informing them about the process. "In some neighbourhoods, secondary school students do not know that a preparatory class is free of charge or that universities offer financial aid," Célia said. She went on to say that a lack of information and models to follow along with disparities between the establishments and the family environment as well as many other factors bring about to the first obstacle to equality, which is self-censorship.
Opening the doors to higher education
With its 60 tutors, Envie d'Sup is labelled as a Cordées de la Réussite, with which it shares its three mainstays: cultural inclusion, guidance and personal development. As a partner of two secondary schools and five sixth form colleges in Rouen, it works with students "who want to go to NEOMA to participate in workshops," she said, including improv theatres, role playing, public speaking contests, UN council simulations and more. "One of the challenges is to build up the students' self-confidence and their ability to express their feelings," Célia said, who was often amazed by the curiosity of the young people and how they put thought into large, global concerns.
Célia managed to combine her studies and involvement in the society, aided by a student society track that seemed like a good fit for her. "I had to learn how to get organised. That's obvious, but I managed pretty well!" she said. She understood that changing people's way of thinking is a Herculean task. But one thing is certain for Célia, she is more than ever "proud to study at a school that is such a strong symbol of social inclusion."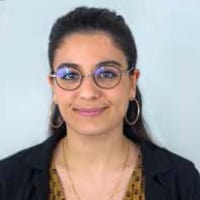 This is the cause that I'm going to dedicate my life to
MYRIAM KADDOURI, Master 1 student at NEOMA Business School, Reims campus, president of HeForShe at NEOMA and vice-president of the Student Observatory for Sexist and Sexual Violence.
Her commitment to gender equality started in secondary school, she said. "The supervised research project that I had to do for my Baccalaureate led me to think about the place of women in advertising. This is where I first saw this cause," Myriam Kaddouri said. She points out that the HeForShe society, coming from the U.N. campaign for gender equality, was "supposed to be temporary, but it had such an impact that it has become a permanent project throughout the world."
Action!
The calendar of HeForShe has several important dates, starting with Pink October, a breast cancer awareness campaign and collection drive, which comes before a crucial week at the end of November, Violence Awareness Week. During these four days the student society offers many activities: awareness about violence and harassment, conferences, self-defence courses and more. These are followed by workshops on gender equality with the Prépa'Rémois society, a discussion on the place of women in financial professions and the Empow'her'ment Day on 9 March. "Actions for learning how to say no, for deconstructing the process that leads to violence and our way of facing it," the young energetic woman said. HeForShe can count on the support of other NEOMA associations to relay its campaigns while becoming a core component of life in Reims, "in direct connection with the local education authority, the department delegate to gender equality and all those who fight against sexual violence in the region."
Intense weeks
Myriam also participates in the development of the Student Observatory for Sexist and Sexual Violence, whose goal is to collect the best practices through a questionnaire. At NEOMA, she chose the student society track, that allows her to work on both her obligations as a student and as a society member. Despite everything, the weeks are intense. "I have between 80 and 90 hours of work and fifty or so conversations on Messenger to follow," she said.
For her, the student society track is like an incubator. "You need to learn how to do everything: from filing for grants to negotiations, from organising security for an event to organising my own logistics…" These efforts are an integral part of her education because, after all, Myriam already understands that: "This is the cause that I'm going to dedicate my life to."