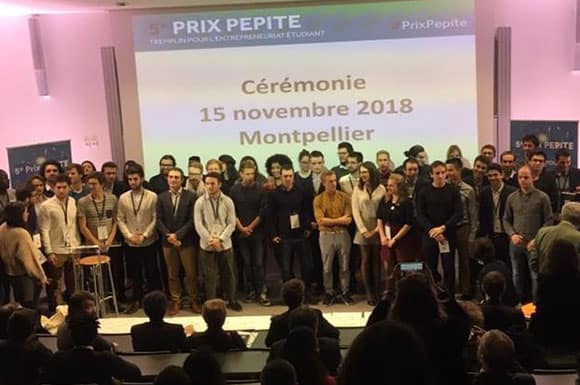 The start-up Ecoframe, winner of the National PEPITE Prize – Springboard for Student Entrepreneurship
Thursday, November 15, 2018, Bastien Gadenne, MSc in Global Management student at NEOMA Business School and co-founder of the Ecoframe startup, and his team were awarded the PEPITE National Prize - Springboard for Student Entrepreneurship.

The adventure got off to a good start. On 17 October 2018, the Ecoframe team was crowned winner of the Pépite Grand Est Regional Prize, taking home €750 and a place in national grand final. Then, at the national awards ceremony in Montpellier, the team was honoured to win the National Pépite Award organized by the Ministry of Higher Education, Research and Innovation, in partnership with the Caisse des Dépôts. As the winning national startup, Ecoframe receives a €10,000 donation.
A fantastic success given that this startup, which specialises in the renovation of old maritime containers into modular and evolving infrastructures (social housing, student residences, mobile offices, etc.), was one of the 53 projects selected out of the 400 projects nominated for the Pépite Prize.
Increased visibility for projects likely to become a reality
"This is a real opportunity for us to become better-known," Bastien Gadenne points out, "Following our nomination as regional winners, clients came to meet us for the construction of offices, living spaces... It is all the more important for us to gain visibility because we are currently in the middle of commercial development and prototyping. At the moment, we are finalizing a first housing construction contract with a social organization in Belgium for April 2019, and we have an appointment next week with an agronomist in Reims about a mobile office offer."
The National Pépite Prize for this team is also acknowledgement of their dedicated effort. "The €10,000 will be used to boost our commercial development, our communication and to finalise our first prototype, which will be operational at the end of December 2018. As with the Grand Est Regional Prize, we hope that the National Prize will open up additional opportunities and enable us to accelerate our activity," Bastien adds.
For more information about Ecoframe: https://www.ecoframe.io/