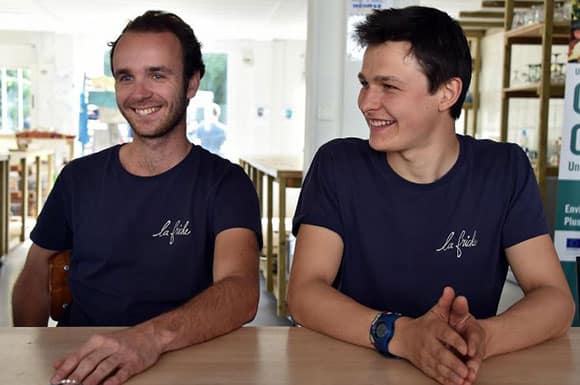 "There's no need for 20 years of credibility to offer advice"
Contrary to many ideas business start-ups, starting your own company doesn't require many years of experience. However, when you start mentoring, experience becomes an essential asset in guiding entrepreneurs. These are explanations and accounts from Denis Gallot, director of the Start-Up Lab at NEOMA Business School, as well as from Philippe Blanchot and Guillaume Souloumiac, former entrepreneurs in the NEOMA BS incubator who started their own incubator.
Today, many project leaders hesitate before starting the process of company creation because it's a risky world that requires certain knowledge, natural character traits and a mind for innovation. These skills are not necessarily accrued through many years of experience. It just takes a bit of boldness, an adventurous spirit and a lot of motivation to start your own business. But what is the ideal age for creating your own company?

Denis Gallot: Age and years of experience are often used as determining factors in claiming certain legitimacy. But it's the risk factor that is not correctly assessed. It's better to create your company as soon as possible. A lot of people think that to start your own business, you need to have market experience and the most business experience possible when, in reality, there is no right age or level of experience. Also, it's better to undertake the creation of your business when the social and financial stakes are lower. In fact, an older entrepreneur encounters different roadblocks (family responsibilities, loans, mortgages, etc.) while young entrepreneurs have very few major constraints (finances, family, etc.). They are more easily satisfied and will therefore accept more easily the sacrifices they have to make at the beginning of their efforts. The risk of failure also has fewer consequences.


At the same time, don't you need to accrue a certain amount of experience to start your own incubator?

DG: In this specific case, when entrepreneurs start their own incubators, experience is a skill to take into account. When creating a supportive relationship between a young entrepreneur and a seasoned business entrepreneur, it is preferable to have basic knowledge in the field in order to provide advice on strategies to adopt and decisions to make. It's not essential to have already started a company that is a growing success or that has existed for several years. A period of two or three years is enough to acquire the necessary experience, depending on the sector. Thus, the experience in company creation proves to be indispensible for contributing to the success of young entrepreneurs and giving them helpful support. Obviously, it is easier to help someone when you already know the steps in business creation.


This idea, which is well developed in the U.S., is still not generally applied in France. Philippe Blanchot and Guillaume Souloumiac, Masters in Management graduates from the class of 2017 and former NEOMA BS incubated entrepreneurs began this adventure by starting their own incubator in Lille. Inspired by the food court concept, Friche Gourmande, also called "Halle à Manger", is a 1,200 m² space where young entrepreneurs can pitch their project before starting their own restaurant. Why did you start your own incubator? How did you come up with the idea?


Philippe Blanchot and Guillaume Souloumiac: The idea was based on our own experience, especially those we had while living aboard. It was important for us to develop the incubator while reflecting on the difficulties we experienced when we were in the Néoma incubator, particularly fund-raising issues, contacting banks, etc. We think that relying on someone who has already made the decisions that you need to make has real added value in a company. Also, this interaction allows us to make our concept more dynamic by offering new gastronomic innovations through temporary food stands.


How is incubation managed in your space?

PB and GS: We first positioned 4 e-shops with restaurateurs to ensure that there was a certain amount of stability. Then, bit by bit, 5 incubated projects joined the space. Incubation was mainly done through action. The objective is to advise them by using our own experience and giving them carte blanche for their stand's operations. The goal is not to manage them. The idea is that they learn to discover new trends in the sector, which allows them to analyse the market and learn the management techniques specific to the food service and catering professions. We are there to help them communicate their concepts. Through this type of mentoring, the incubated businesses take advantage of the space to test their concepts and customer base to create a visual identity. When they manage to acquire their own place, they have all the tools they need to refine their niche.


At what moment did you think you had enough legitimacy to create your own incubator?

PB and GS: We first worked in the restaurant sector, specifically abroad before starting our own business. According to us, there's no need to have 20 years of credibility to offer advice. Also, the restaurant business is an accessible sector, which makes a rather small amount of experience perfectly legitimate when offering something to new creators and building an incubator space with new concepts.