Training young people, a performance lever for Retail?
That is what the exceptional evening event confirmed, which was held on 30 November on the NEOMA Paris campus, at the initiative of Michel-Édouard Leclerc, school president. A discussion with several important figures in job transformation and career opportunities in a rapidly changing sector.
Retail, a rapidly changing sector
More than 350 graduates, students, professionals, employees and professors attended the round table discussion on the transformations in retail and the resulting training challenges. An exceptional panel was put together: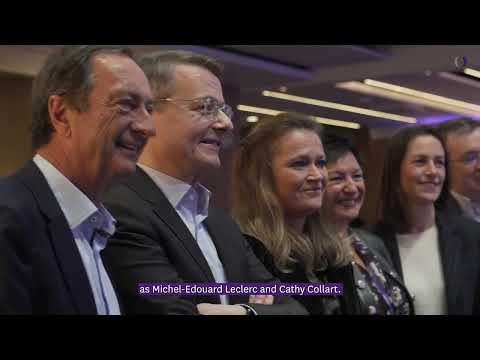 "You never have anything to lose when you commit to service professions." This is how Olivier Grégoire, Minister responsible for Small and Medium-sized Enterprises, Commerce, Craftsmanship and Tourism, closed her speech at the round table focused on strategic developments in retail and changes to its professions.
In terms of training, the ECAL Services management Bachelor programme at NEOMA is a well-established name. With a curriculum specialised in retail, ECAL aims to give young people the key skills to work in retail and build their future.
Those working in retail and sales today agree: people-oriented service is key.
For Dominique Schelcher, it's the revolution of the 3 Cs: citizen, consumer, co-worker.
As Cathy Collart Geiger explained, "The transformation of information systems will return the customer to the centre of the relationship with brands and chains. And in these times of necessary restraint, the quest for meaning is seeing a resurgence and with it, the need for sustainability."
According to Tiffany Foucault, the uniqueness of stores' men and women will increasingly contribute to the attractiveness of the retail outlets. An expert salesperson and technician who also knows how to talk about extended lifespan and repairability for a product will be more than ever a central figure in the omnichannel strategies of chains!
Éva, NEOMA student, attended the event: "With an entrepreneurial project that matches up with retail, I absolutely had to come! I would especially like to applaud the speech from Cathy Collart, the first French managing director in mass retail, who showed us that as a woman, her desire to achieve that position. Thanks to all of the speakers for sharing. Together, they highlighted the challenges and answers for mass retails."