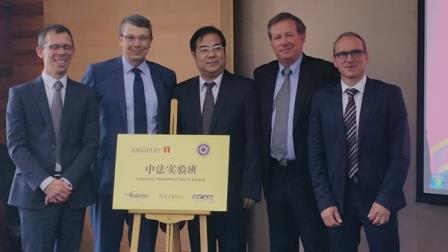 Two excellence partnerships in China with Guangming High School and Hangzhou Foreign Languages School
NEOMA Business School has just renewed its agreement with Guangming High School in Shanghai, alongside ESIGELEC, EIGSI La Rochelle and ECAM Lyon. In 2014, NEOMA Business School decided to join the partnership initiated by ESIGELEC in 2012, opening its Bachelor in Business Administration programme to final-year students in the Guangming High-School excellence class.

«Our BBA offers international students the opportunity to join the programme from the first year. With this agreement with Guangming High School we will reinforce this international recruitment, which gives our students a rich, multicultural learning environment," explains Michel Motte, Director of Student Affairs at NEOMA Business School.

This year, while the consortium has increased in size with a new French partner, ECAM Lyon, the principle of the partnership remains the same: pupils first join the French language excellence programme, and then, for their final year at high school, are selected for an adapted class to prepare them to join a programme in one of the French partner schools.

However, the excellence programme in Shanghai has undergone major changes:

The most gifted Chinese pupils will now be exempt from taking the GaoKao exam (the Chinese university entrance exam) when they join a programme in France. This change concerns pupils who pass all the very selective written exams a year before the end of high-school, together with an interview. Pupils who do not achieve the required score at these exams will have to take the GaoKao to enter one of the French schools.
A simplified visa application procedure for pupils who are selected.

The trip to China also provided the opportunity to select eight pupils from Guangming High School for Bachelor in Business Administration programme.

At the same time, the consortium signed a second agreement with Hangzhou Foreign Languages School. "Although, unlike in Shanghai, this joint acclimatization class will only be for pupils in their final year at high school, with Hangzhou, where more than 60% of pupils are exempted from the GaoKao exam, we are taking the same approach to academic excellence," stresses Michel Motte.

Four pupils from Hangzhou High School have already been selected to join the scheme.

The adapted final-year class consists of one semester in the Chinese high school, followed by a semester in France. The programme includes intensive language classes and specific adaptation classes. At the end of the adapted final year, pupils will join the first year of our Bachelor programme.

"We have thus moved away from traditional international recruitment processes, monitoring high-school pupils rigorously throughout their secondary education, and working in close cooperation with the high schools on candidate selection and on the design and constant adaptation of the preparation programme."