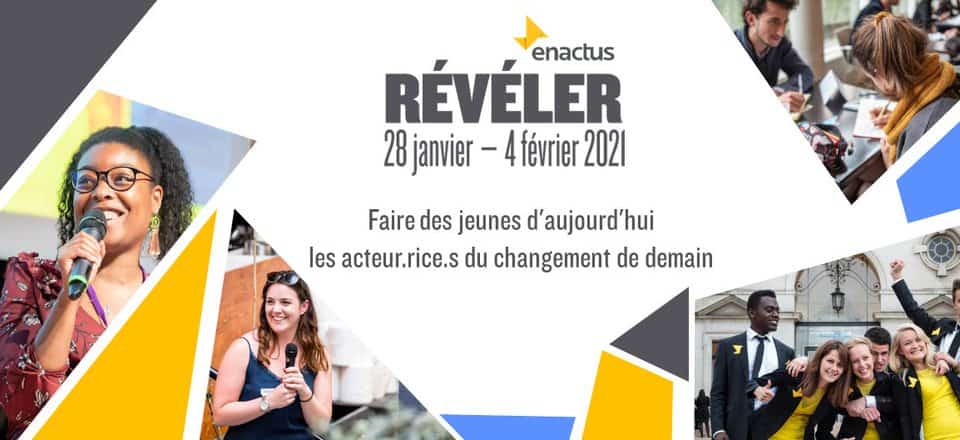 Two Grand Est awards for Enactus NEOMA BS Reims!
Congratulations to the students of Enactus NEOMA BS Reims, the social entrepreneurship association, on winning the 2 "Prix du Grand Est" awards attributed by Enactus France at the "Révéler" ceremony held at the end of January.
Usually held in Paris, this year's "Révéler" (Revelation) event organised by Enactus France , which acknowledges the commitment of young people in 4 regions to building today's and tomorrow's world, was held online.
The evening began with a presentation of the different projects, informal networking discussions and official speeches, including one by Alexandre Séverac, Head of Associative Life at NEOMA, on the professional skills students acquire through their involvement with the associations.
The partner companies of the event then began the long-awaited prize-giving ceremony for the candidate associations from Schools such as URCA, École des Mines de Nancy, EM Strasbourg and NEOMA of course! What a surprise and such pride for the students of Enactus NEOMA BS Reims on winning the evening's two awards!
First of all, the Harmoni Mutuellle Foundation acknowledged the 8 students from Support'Her, a solidarity-oriented sports club on their project to help women in precarious and socially isolated situations reintegrate society. The €1,000 prize money will go towards the purchase of sports equipment, gym rental or teachers' pay.
The second prize, sponsored by the SAP Foundation, went to Recycl'Hub, an application that promotes and facilitates selective waste sorting. The 3 Master in Management first-year students behind the project won access to mentoring support from SAP experts.
Guerric Hingray, Vice-President of Enactus NEOMA BS Reims, reflects on this fantastic evening: "I am delighted to see our association's projects in operation and winning awards, and I'm really proud of the teams who have worked so well this year! I am also particularly proud as a founding member of one of the two winning projects, Support'Her ".
Congratulations to our students, all true citizens who are actively involved in solidarity-oriented projects.