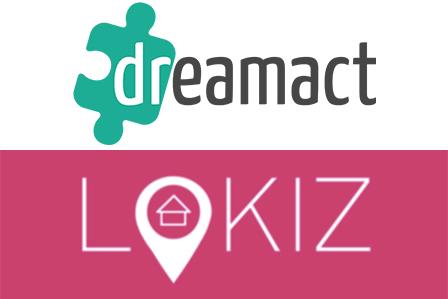 Two NEOMA BS Incubator start-ups in the Challenges Top 100 promising start-ups ranking!
The magazine Challenges has published a list of the 100 leading French start-ups. More than 10 000 firms applied to be included in this very select ranking, which includes two projects currently being incubated by the NEOMA BS Incubator: Lok-Iz and Dream-Act.

While this success is a well-merited reward for the leaders of these innovative projects, it also strengthens the School's determination to cultivate its students' entrepreneurial spirit. "We can only be proud of this excellent result! Because in addition to recognising the potential of the Lok-Iz and Dream'Act projects, the ranking also considers that they have a good chance of long-term success," explains Denis Gallot, Director, NEOMA BS Incubator. "And it is precisely our mission as an incubator to provide our students with the perfect working environment in which to launch their project and make it sustainable."

For Lok-Iz, a platform that turns internet users into unofficial property brokers, and Dream'Act, which helps people make their everyday consumption more responsible, the selection provides them with an unexpected showcase for potential investors.