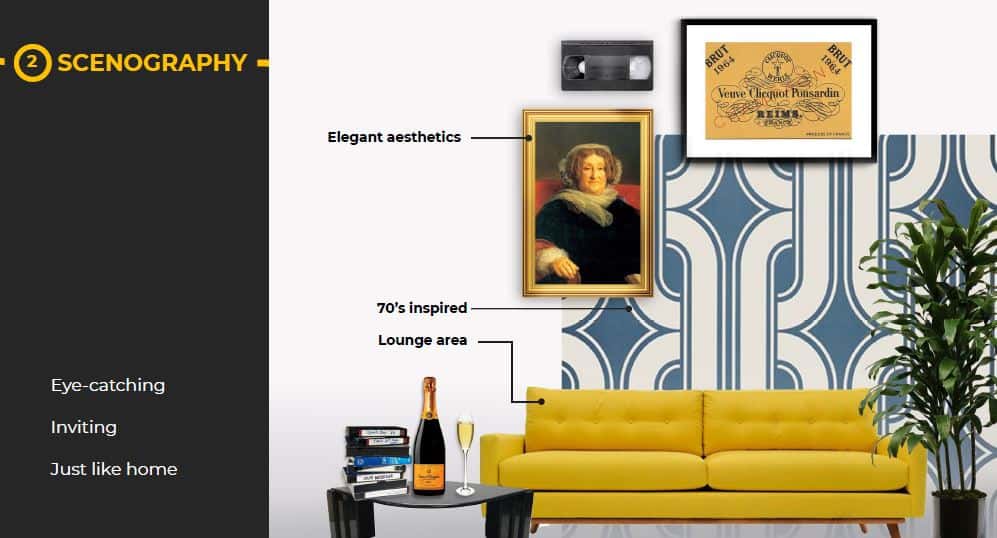 Veuve Clicquot Challenge: a luxury business case
The students of the Master of Science in Luxury Marketing at NEOMA had to put into action many different skills to satisfy the famous champagne house during this challenge: innovation, organisation of ideas, public speaking, project management, customer relations, to name just some.
At the end of January 2021, the famous Veuve Clicquot Champagne House invited the students on the MSc in Luxury Marketing to work on two real issues for the company: to carry out a market research study on personalisation offers in the luxury sector and to recommend a personalisation programme.
Meeting the challenge with creativity and professionalism
After several weeks working in groups, the students presented their proposals, which were both diverse and creative, to Iris Bret, Global Packaging & Collection Manager, and Célia Roussin, Global Innovations & La Grande Dame Manager at Veuve Clicquot. Some groups worked on the theme of nostalgia, some suggested using AI, some sought solutions in the stars and some linked champagne with fashion or modern art.
"It was very interesting to see that many groups, whether consciously or not, brought into their projects the notion of time spent with their loved ones. In the difficult period we are currently living through, it was obvious to them that we all wanted to see our loved ones again," commented Julia Pueschel, Head of the MSc in Luxury Marketing at NEOMA.
At the end of the challenge, the Maison Veuve Clicquot singled out the professionalism with which the students undertook their research and invested hours working on turning their ideas into reality. "The students took the challenge seriously, dealt with it thoroughly and proposed creative, well-documented ideas to us," stated Célia Roussin.
Honing their cross-cutting skills
Julia Pueschel is extremely proud of the quality produced by her students, and also observed great progression during the course of this challenge in the way they managed their projects, worked as a team and rose to the challenges set by the Maison Veuve Clicquot. "This practical case study really enabled them to hone their general skills, such as the management of complex tasks and the presentation of ideas, competences they will need in their future career, both in a company in all kinds of negotiations and also if they decide to become entrepreneurs themselves," she concludes.
For their part, the students are also very positive about the challenge set by their professor and emphasise all the benefits they have gained from this experience. For Victoria, a member of the winning team, it was a very enriching project, both personally and professionally. "The Veuve Clicquot challenge enabled me to build strong relations with my team and helped me develop my creative side. I am very proud of what we have achieved together, when we couldn't even see each other during this difficult year. I sincerely believe that this project has taught me a lot that will help me in my future career, especially in terms of presentation and meeting deadlines. I have always been afraid of speaking in public and thanks to this project, I have gained confidence and now I have no trouble expressing myself to an audience. My team and I came out of the challenge stronger and even more determined to accomplish great things in the near future."