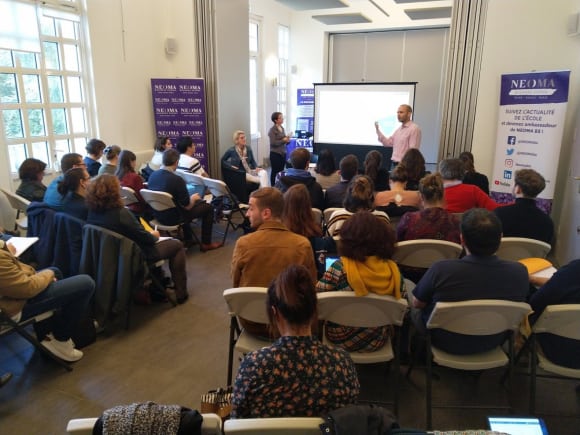 VISTA-AR: the challenges of digital heritage mediation
Vista-AR (Visitor Experience Innovation through Systematic Text Analytics & Augmented Reality) is a research project of the Interreg France (Channel) England Programme , which brings together a total of 8 partners either side of the Channel. A progress report presentation was made to project partners on the Rouen campus of NEOMA Business School to address the challenges of the digital mediation of heritage.
"The observation that led to the implementation of Vista-AR is as follows: digital devices already exist for use on sites of cultural heritage, but sufficient consideration is often not given to visitor expectations," announces Jean-Baptiste Suquet, Associate Professor in the People and Organisations Department at NEOMA BS.
Vista-AR, a research project launched in 2017, aims to realise the potential of common natural and cultural assets to develop innovative and sustainable economic growth. This research project specifically promotes the implementation of digital solutions for cultural heritage sites by providing answers to the following questions: how to monitor the impact of digital devices on visitor experience, how to analyse this impact and create value?
From a universal solution to experimentation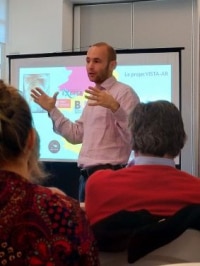 "Incorporating a digital device into a guided tour is not in itself the key to success," explains Elsa Gatelier, a post-PhD researcher in economics at NEOMA BS on the Interreg VISTA-AR Project. "It is a real challenge for the sites and each device, tablet, oculus helmet, etc, needs to be adapted to each site's specific characteristics. For example, in a Chateau like Fougères (a Vista-AR partner) with one-meter thick walls, using WIFI or GPS location systems is simply not possible. And the problems for a Chateau are not the same as those at remarkable gardens or a cathedral! And even if we dreamed of finding a unique, universal solution, our varied experience has led us to revise how we see things" says the researcher.
"Moreover, experimentation is crucial, and not finding the perfect combination right away is perfectly normal. You have to carry out tests and realign your target. Our work is delicately balanced," says Elsa Gatelier, "because each dimension can evolve and impact others. The visitor is the barometer and their behaviour and satisfaction must be observed in order to make an assessment."​
Understanding and managing the visitor experience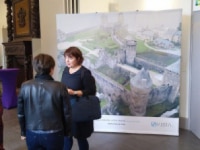 The Vista-AR project aims to take multiple aspects of the visitor experience into account by classifying the collection of information and developing analytic and monitoring tools.
​
"The solution currently being studied by Vista-AR is automatic textual analysis," explains Sylvie JOLLY, an economics researcher on the Vista-AR project. "Because gathering relevant visitor opinion is far from simple, particularly if we want to go beyond the "it was good" stage. As part of Vista-AR we are working on solutions that allow us to take the analysis further, to go beyond simply measuring overall visitor satisfaction."
CESI, a major partner in the project, also presented two aspects of their research progress: understanding the visitor experience and the development of the cloud system and data collection and analysis tools.
Technology to better understand visitor itineraries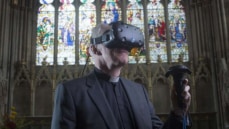 "We are seeking to understand the routes visitors follow during their visit better by analysing spatial and temporal movements," explains Mohamed-Amin Benatia, a CESI Research Professor. "For example: is a particular area on a site where visitors spend a lot of time the result of congestion or because it is a point of interest? "he asks. "By deploying our experimental device, which couples the interference of the Earth's magnetic field to the location of visitors' smartphones, we made some interesting discoveries at Exeter Cathedral, one of the Vista-AR partners. We found that certain areas of the cathedral that are considered "uninteresting", are in fact very much appreciated by the visitors".
"Once enough data has been collected, we hope to be in a position to programme personalized itinerary recommendations based on criteria such as the visitor's age, interests and weather," adds Mourad MESSAADIA, Research Professor at CESI's LINEACT laboratory.
To date, Vista-AR has made real progress. Two more years' remain on this project and there are a number of promising avenues to be explored.
Find here the video of the exchanges of the day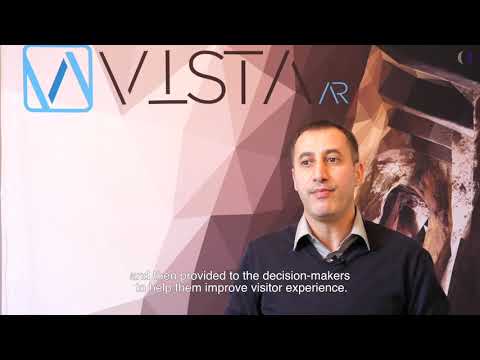 Progress report speakers:
Mohamed Amin BENATIA, Research professor at CESI (LINEACT*)
Clotilde DUROT, Project leader, VISTA-AR, Brittany
Elsa GATELIER, post-PhD researcher on the Interreg VISTA-AR Project at NEOMA Business School
Sylvie JOLLY, Researcher on the Interreg VISTA-AR Project at NEOMA Business School
Mourad MESSAADIA, Research professor at CESI (LINEACT*)
Jean-Baptiste SUQUET, Associate professor at NEOMA Business School
8 VISTA-AR partners:
University of Exeter, Project leader – United Kingdom
Brittany European School of Art (EESAB) – France
Regional Council of Brittany – France
Bournemouth University – United Kingdom
Centre of Higher Education and Professional Training (CESI) – France
Municipality of Fougères – France
NEOMA Business School – France
Exeter Cathedral– United Kingdom
>Read more about the VISTA-AR project, presentation and news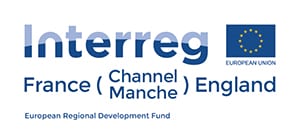 Programme priority: To realise the potential of natural and cultural assets to deliver innovation and sustainable growth.
The allocated budget is €8,292,568.68 with European Regional Development Fund (ERDF) co-funding of 69%.
This includes an extension with budget awarded in November 2020 to allow the project to mitigate the risks of the pandemic.