Stéphane Fourneaux, PhD, EMBA
Head of the International Financial Analysis programme – Financial management and strategy option
Control disruptive and strategic financial management.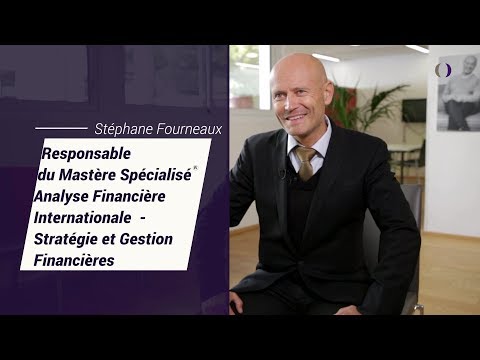 Programme presentation 
The International Financial Analysis programme trains financial analysts with a 360° managerial perspective on international finance who are able to function in unstable and complex environments
The techniques taught in the programme explain and clarify the reality of various businesses in order to establish a rigorous financial assessment framework and trace value creation for banks, investors, manufacturers and the company itself.
The pedagogy employs a comprehensive interactive blend of professors and professionals with permanent simulations and role-playing scenarios.
Lastly, because the corporate world must adapt to changes and risks, the programme includes extra-financial elements and soft skills that round out the financial analysis curriculum.
5 good reasons to join the programme
A programme awarded with a 2020 Financial Times "Global Masters in Finance" ranking: 21st place (+ 4 places) – 6th in France

A programme with 15 years of experience teaching a 360° cross-functional and holistic approach to all the elements in the value chain and their interactions

Close cooperation between renowned businesses and professionals and perfect integration of financial and extra-financial knowledge

Complete blending of finance professionals and professors (trading room course), permanent co-construction between the professional and academic worlds

Access to an active global alumni network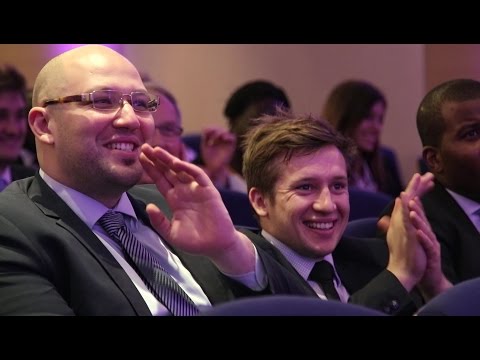 Advanced Masters in International Financial Analysis: 10th anniversary celebrated in 2016
During a gala evening event with Jacques de Larosière as the guest of honour.
Programme objectives
The programme focuses on a solid academic curriculum taught by professors on the cutting edge of techniques, coupled with a strong dimension of practical knowledge through workshops given by recognised specialists and professionals from all banking, financial and market sectors.
By entering our programme, you will develop the key skills needed to have a career in financial analysis through a curriculum recognised in the world of international finance.
LIST OF COURSES
Marchés & Environnement
Comptabilité financière & normes internationales
Finance Entrepreneuriale
Fin Tech
Théorie financière & Evaluation
Leadership seminar & Individual Trajectory
Stratégies financières
Finance & Trésorerie
Gestion des risques
Innovation et ingénierie financière
Diagnostic et contrôle financiers
Techniques de consolidation
Performance & Négociation
Professional thesis
Based on a business problem, the thesis marks the end of the programme with a practical application of the acquired skills and concepts. An academic tutor supervises the thesis over several stages and points (methodology, progress report, etc.) before its final submission and oral defence.
Programme highlights
Using inverted pedagogy for fundamental courses
Before the courses, students will acquire knowledge and skills through different tools and mediums: documents, e-learning, podcasts, and more. During the course period, they will apply the concepts and knowledge by reviewing problem-set solutions. This type of pedagogy encourages student interaction and cooperation.
A pedagogy founded on "Learning by doing" to master different forms of expertise
Emphasising experience-based learning, this approach helps develop the ability to learn and grow in uncertain environments. This learning combines methods, knowledge and experience through simulations, serious game, case studies, roleplaying, hackathon, etc.
Conferences are organised in collaboration with companies and professionals. They deal with subjects such as financial communication, individual shareholding, FinTech, etc. These meetings offer an opportunity to talk with conference speakers and listen to them share their experiences.
Skill sets
The International Financial Analysis program enables graduates to:
Take or support financial investment decision-making in France and / or internationally, while ensuring the control of associated risks
Manage financial decisions and associated risks using a financial decision analysis and monitoring system
Create and deploy descriptive and predictive models from data to facilitate the financial analysis of companies and / or sector and / or market
Identify and develop companies and / or sectors and / or market with high potential for creating added value in France or internationally.
Evaluation procedures
The programme is recognised through a dual validation:
Ongoing assessment: evaluations conducted throughout the length of the programme in the form of individual or collective reports to be submitted
A professional thesis: submission of a written document and an oral defence before a jury made up of 2 tutors and the programme directors
At the end of the programme and after a validation of the ongoing assessment and professional thesis, the Level-7 RNCP of International Financial Analyst degree is awarded to the participants.
If some modules were not validated and thus no credits were earned, the programme participant can redo the evaluation during a period set up for this purpose.
Key figures
There is a great deal of thematic overlapping between the curriculum and the major players in international finance, which guarantees you permanent employability with a recognised degree.
100%* of students found a job in less than 6 months
Average pre-tax wages : €50,000 per year
* Graduates 2019-2020 survey
Targeted professions
Financial and administrative director
Treasury manager
Management controller
Import/export financing manager
Merger/acquisition manager
Financial reporting manager
Project head
Close ties with the professional world
NEOMA Business School and the Advanced Masters International Financial Analysis maintain close ties with major financial institutions.
AMUNDI – AXA – AXELTIS – BBVA – BPCE – BNP PARIBAS – BOUYGUES CONSTRUCTION – CIC – CFAO – CGI FRANCE – CREDIT AGRICOLE – ECOLAB – EDF – EY – CANAL+ – GROUPAMA – GROHE – HSBC – KEPLER – LA FINANCIERE TIEPOLO – LYXOR – MANSARTIS – MOET HENNESSY – NATIXIS – EURONEXT – ODDO & CIE – PWC – ROTHSCHILD – SOCIETE GENERALE – SANOFI AVENTIS – SFR – STATE STREET – TELFRANCE – THALES – TOTAL – VEOLIA
Results indicators
4.1
Satisfaction Rating (out of 5) 
1.4
Average job search time
(month)
100%
Insertion rate at 6 months 
95%
Graduation rate
2019-2020 data
Admissions
The International Financial Analysis programme is intended for students or professionals from financial departments in all types of industries who want to specialise or earn a dual-skills degree.
We select enthusiastic participants who want to acquire hard skills in financial analysis and enhance their soft skills (creativity, leadership). We help them cultivate their particular qualities that set them apart and develop their ability to learning and be creative. We also put emphasis on their personal development, their communication skills and their critical-thinking abilities. We look for the right balance between technical skills, soft skills, ethics and sustainability.
Eligibility
| Entry level | Year 1 | Year 2 | Degree |
| --- | --- | --- | --- |
| Master's Degree/four-year Bachelor's degree + three years of professional experience/four-year Bachelor's degree (30% of class)* |   | Part-time Advanced Masters (AM) | Advanced Masters (AM) accredited by the "Conférence des Grandes Ecoles" |
| Four-year Bachelor's degree or three-year Bachelor's + three years of professional experience | | Part-Time Master of Science | Master of Science / Level-7 RNCP certification |
| After a three-year Bachelor's degree | Preparatory Year | Part-Time Master of Science | Master of Science / Level-7 RNCP certification |
*We accept applications from students holding one of the following diplomas :
Engineering degree accredited by the « Commission des Titres d'Ingénieur » (CTI list)
Degree from a Management School accredited to deliver the national « Grade de Master » (CEFDG list)
Postgraduate degree accredited by university authorities (DEA, DESS, Master's degree, etc.) or a professional Master diploma
4-year Bachelor's degree or equivalent, for students with at least three years of professional experience.
Level-7 RNCP certification
International degree equivalent to the required French degrees noted above
This programme is accessible to people with disability.
Apply
You need to fill out the application online.
You must include the required documents:
CV
Two letters of recommendation
Marks from your academic years
Level of English (IELTS 6 or equivalent)
Calendar
The motivation interviews are held once or twice a month from January to July according to the calendar below.
The interview dates for September 2022 intake will be published in due course.
Application fees: €100
For more information, contact our international team:
Key figures
100% Hiring rate in less than six months

€50k per year Gross average salary
Practical information
Format:

Part-Time - Financial management and strategy option

Duration:

12 months

Tuition fees:

€17,100

Campus:

Paris, Reims

Teaching language:

French

Course start date:

October 2022

Entry level:

From 3-Year Bachelor's degree to Master's degree (see Admissions tab)

Degree awarded:

RNCP (French Register of Professional Certifications) Registered Level 7 Qualification and according to the chosen course Advanced Master (AM) accredited by the "Conférence des Grandes Ecoles" or Master of Science / RNCP sheet No. 34299, International Financial Analyst
close-icon
Ranking
21 st rank
2020 Financial Times « Global Masters In Finance programmes » Ranking
close-icon
Practical information
Practical information

Format:

Part-Time - Financial management and strategy option

Duration:

12 months

Tuition fees:

0€

Campus:

Paris, Reims

Teaching language:

French

Course start date:

October 2022

Entry level:

From 3-Year Bachelor's degree to Master's degree (see Admissions tab)

Degree awarded:

RNCP (French Register of Professional Certifications) Registered Level 7 Qualification and according to the chosen course Advanced Master (AM) accredited by the "Conférence des Grandes Ecoles" or Master of Science / RNCP sheet No. 34299, International Financial Analyst