Become an outstanding manager in the innovative growth sector of retail
This nationally renowned course will provide you with a comprehensive vision of management, as well as an in-depth grounding in retail. As you increase your understanding of how a retail business operates and is managed, we bring you the most strategic elements for you to innovate and undertake in this rapidly changing technological sector.
With the apprenticeship you stay in constant contact with the company to implement and express your managerial potential.
When you enroll on this programme, you will benefit from the support of a highly active alumni network, and from the long-standing reputation of the Bachelor ECAL in the retail sector.
This degree opens doors in the job market by preparing you to quickly take on operational, and subsequently managerial, responsibilities in one of the most dynamic sectors of the French economy. It offers many career prospects with great potential, including roles such as Department/Area Manager, Assistant Store Manager, Junior Buyer and Brand Development Manager.
Like 50% of our graduates, you can also decide to continue your studies by specializing in job positions associated with distribution such as digital marketing, supply chain, purchasing or join the Grande Ecole program to approach management.
Why join this programme ?
A programme and degree with an exceptional reputation in the retail industry
An outstanding employment rate on graduation: 63% before the end of their course; 100% of graduates at work have permanent employment contracts and find the position within 6 months upon graduation.
A vocational training programme that alternates between theory and practice.
A high level of expertise in new retail channels such as e-commerce and drive-through outlets.
A highly active network of 3,500 graduates.
By 2022, 25% of global retail sales will be made over the Internet, and increasingly from smartphones and other mobile devices.

The buying process has been completely disrupted by social media and price comparison websites. Otherwise, stores must reinvent themselves to create shopping and socializing experiences.

Supply channels and the logistics chain also have to adapt: traditional means of payment are being gradually replaced by mobile and contactless systems.

Retail has never had to deal with so many changes at once, and companies need managers who are open to innovation and technology.

With ECAL, you will study innovations in the sector with the objective of anticipating changes and best meeting customer expectations.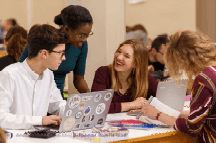 Curriculum
A 440-hour course on our Rouen campus which strengthens your initial bac + 2 training, with the objective of providing you with the skills and benchmarks necessary for your future professional or further study.
In a distribution and trade sector facing profound changes in terms of consumer expectations, consumption patterns and sales channels, the course is structured around 3 themes:
1. New trends in distribution and new technologies at the service of customer relations:
E-commerce Technology applied to the back office
Communication and digital
Consumer studies applied to distribution
2. Strength of entrepreneurship, strategic thinking in the service of creativity and innovation:
Business strategy
Strategic marketing
Seminar on innovation and new store and service concepts
Business takeover and project management
3. Solid management bases and managerial skills:
Management control
Social legislation
Management IT, Excel, B.O, …
English
Personal development and career objective
Skill sets
ECAL is based on 3 skill fields will allow you to develop a global management vision and an expansive retail culture:
Field 1: Manage and oversee your team in mass retail functions
Field 2: Apply the company's sales strategy in your store or in a support role
Field 3: Manager and evaluate the economic and financial results of your department, store or unit
NEOMA offer the possibility of selecting only one skill field out of the 3 skill fields to develop an expertise and obtain certification.
Evaluation procedures
The programme is recognised through a dual validation:
Ongoing assessment: evaluations conducted throughout the length of the programme in the form of individual or collective reports to be submitted,
A final evaluation: performed at the end of the course, it can be done under different forms – it is, for the most part, individual
At the end of the programme and after a validation of 60 ECTS credits per programme year, the level 6 of Retail Operations Manager is awarded to participants.
If some modules were not validated and thus no credits were earned, the programme participant can redo the evaluation during a period set up for this purpose.
Professional experience
Gain work experience with ECAL
The key benefit of this programme is the opportunity to immerse yourself in the business world throughout the course. Thanks to this constant exposure during your studies, you are ready to make a speedy transition to the world of work once you have your degree under your belt!
Internships
You integrate the ECAL bachelor while financing it as part of an apprenticeship contract, and you complete your apprenticeship training (3 weeks in a company / 1 week at the school). Without the apprenticeship, you can join the 3rd year in parallel admission with the initial students of the ECAL program and complete a 4-month end-of-study internship.
"The Company takeover and project management" module
This module involves simulating the strategic repositioning of a business. You carry out an analysis and make recommendations for growth areas to guarantee the company's viability and growth.
Company visits
These tours allow you to discover the operational and sales techniques adopted by different companies (including purchasing centres, logistics facilities, wholesale markets and manufacturing and processing companies) and learn about the unique features of each type of retail store (department stores, supermarkets and hypermarkets, large specialised stores and convenience stores).
The pedagogical innovation module
You will discover the creators of innovative projects, in France and in Europe, and study the key phases of their commercial strategy and the innovations put into their network of stores and online commerce.
You are interested in new trends in society that are changing commercial codes such as short-circuit local purchases, the second life of the product, local logistics and the issue of the last mile.
12 weeks in France during the 1st year

16 weeks in France or abroad during the 2nd year

24 weeks in France or abroad during the 3rd year
Careers
Some position examples:
Department manager
Area Manager
Assistant store manager
Director of a drive
Junior buyer
Specialized sales executive, in charge of supplier / distributor relations
Private label product manager
Junior Category Manager
Coordinator of a store network
Head of brand development
The network of partner companies
ECAL graduates work in companies such as:
Alinéa, Andros, Auchan, Brico Dépôt, But, Casino, Castorama, Centers E.Leclerc, Conforama, Cultura, Décathlon, Galeries Lafayette, Grand Frais, Groupe Carrefour, Kiabi, Leroy Merlin, Les Mousquetaires, Lidl, Metro, Monoprix, Printemps , Promocash, Sephora, Simply Market, Stockomani, Système U, Toys'R'Us, Truffaut …
Performance indicators
88%
Satisfaction rating
on instruction
1 mois
Average time taken
for job search
97%
Employment rate
at 6 months
Source: Course Assessment 2020-2021,
Graduate Employment Survey 2019, 2020 & 2021, Jury 2020-2021
Admission requirements
Two/three-year higher education degree plus 6 months' experience in the retail sector
Applications
Complete the application form available online at http://apply.neoma-bs.fr
If you are shortlisted, you will be invited to an admission session.
One session is held each month.
Application fee: € 80
Applications are reviewed in the current context. If your application is selected (degree eligibility, school report evaluation, etc.), you will be invited for a motivation interview on Skype (given the current situation regarding COVID-19). An official response will be sent to you within 10 days.
For more information, contact our international team:
Practical information
Format:

Full time or as part of an apprenticeship/vocational training contract for 3rd year admissions

Duration:

1 year

Tuition fees:

€ 6,000 per year

Campus:

Rouen

Teaching language:

French

Course start date:

September 2023

Entry level:

Two/three-year higher education degree plus a minimum of 6 months' work experience for admission

Degree awarded:

Services Management/RNCP Registered Level-6 Qualification/RNCP sheet no. 36272, DIPLOVIS – Services Management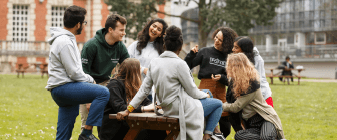 close-icon
Ranking
1 st rank
2020-2021 "Eduniversal" Best Bachelors in Negociation, Sales, Trade, Distribution
close-icon
Practical information
Practical information

Format:

Full time or as part of an apprenticeship/vocational training contract for 3rd year admissions

Duration:

1 year

Tuition fees:

0€

Campus:

Rouen

Teaching language:

French

Course start date:

September 2023

Entry level:

Two/three-year higher education degree plus a minimum of 6 months' work experience for admission

Degree awarded:

Services Management/RNCP Registered Level-6 Qualification/RNCP sheet no. 36272, DIPLOVIS – Services Management