open alert
Find out where you can meet us!
Come to meet our team by making an appointment Consult our list of events, you can check if your country/city is in it
alert close
Learn and master digital techniques to efficiently leverage marketing strategies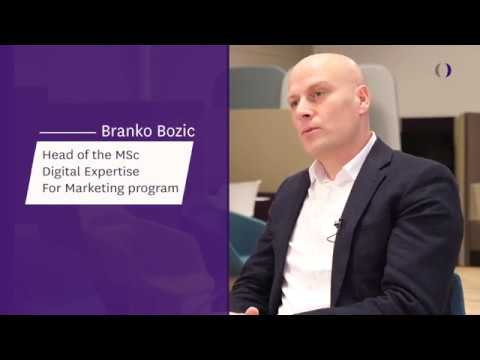 Programme presentation
The Digital Expertise for Marketing programme is intended for students who aim to pursue careers in the digital marketing world.
During the programme, students will be exposed to the current issues facing marketing managers, including, among others, how to navigate the complex social world of digital culture, engage with tools to better target consumers and increase sales, apply creativity to design and conceive and apply meaningful metrics.
The courses tackle emerging and challenging subjects such as: digital advertising, influencer communication management, business models based on artificial intelligence, omni-channel marketing and sales, and community management.
The programme also offers students an environment conducive to developing soft skills relating to leadership, teamwork, and network building. Designed to prepare future marketing leaders who understand the digital present and future of the marketing sector, the Digital Expertise for Marketing programme trains the leaders driving digital transformation in communication.
5 good reasons to join the programme
Master a skill set that is highly sought after in the job market

Acquire industry certifications and qualifications

Train in essential software packages such as E-CRM software, data analysis software, Adobe Photoshop, Illustrator, etc.

Become immersed in hands-on practical projects that test acquired expertise

Build on essential soft skills to work efficiently in the digital field: teamwork, leadership and communication skills, analytical thinking and creative problem-solving skills
Programme objectives
The MSc Digital Expertise for Marketing aims to train students in up-to-date digital marketing techniques and give them the ability to adapt to a rapidly changing job environment in the omni-channel digital business world.
At the end of the programme, students will be able to:
Implement digital transformation in companies based on the overall strategic vision and apply knowledge of digital disruption techniques
Design digital marketing communications and effectively deliver these communications to the target audience using a mix of digital media
Analyse quantitative and qualitative company-level and industry-level data and draw managerial insights based on the data analysis
Implement multichannel distribution strategies driven by e-commerce and m-commerce sales
Understand the basics of designing successful digital products (websites and apps)
Programme highlights
EXPERIENCE-BASED, IMMERSIVE APPROACH
Mastering digital tools is based on an essential hands-on approach that conveys practical digital skills used to develop a strategic vision that can be applied to market research techniques, while also providing exposure to leading product digitalisation methods.
PROFESSIONAL EXPERIENCE (4 TO 6 MONTHS)
This is an essential opportunity for applying the theoretical and practical skills learned during the first two semesters in a professional environment. Students are free to do their internship in France or abroad, subject to approval by the internship director and based on its relevance to the MSc programme and course content.
Careers in digital marketing are challenging and exciting. They offer promising opportunities in fast-evolving work environments worldwide.
Targeted professions
A few of the possible jobs that students can aim for:
Product manager in a technology-driven industry
Data analyst, Web/digital analyst
Social media manager, Web traffic manager
Content manager, Community manager
CRM manager
Digital designer (CDO)
UX designer
Professional experience
This experience can take the form of an internship (4-6 months), a job, or the creation of a start-up company in France or abroad.
Admissions
Careers in digital marketing are well-known for being challenging and exciting due to the fantastic opportunities that they provide.
The first quality required by this major is a strong motivation, a real interest, a hard-working capacity, and an ability to adapt and learn fast.
The second quality required is the technical proficiency, including analytical skills and advanced computer skills.
The third quality is the spirit of innovation.
Eligibility
SHORT TRACK:
4-year Bachelor's degree (Origin of the academic background : economy, business, science, etc.)
Proof of English language ability is required during the application process (TOEIC, TOEFL, IELTS 6 or equivalent)
LONG TRACK (2 Year MSc option):
3-year Bachelor's degree (Open to all backgrounds)
Proof of English language ability is required during the application process (TOEIC, TOEFL, IELTS 6 or equivalent)
Calendar
Recruitment is carried out on a rolling admissions basis. However, given the limited number of places, candidates are advised to apply as early as possible.
Admission is decided on the application to be filled out online.
Application fees : €100
2-Year MSc Option
Discover the Two-Year MSc Option, the long track that makes a Masters' degree accessible to 3-year Bachelor students!
"Open up your professional horizons and reach for an MSc from a top French Business School"
Delivered on the Rouen campus, this programme serves as a gateway to a Master's of Science for students with a three-year higher education qualification (French Licence or Bachelor's degree). The programme is also open to students with degrees in non-business fields. The first year is an International Pre-Master, overviewing the core of business studies and leading up to the selected MSc in the second year. Please specify your preferred programme when preparing your application.
Layout of the programme
This course was designed to…
Open access to MSc degrees to profiles missing the necessary qualifications for direct entry
Guarantee success at the MSc level by laying the ground during the Pre-Master year
Open up professional horizons by switching to a new field of study
Overview the main areas of knowledge included in an undergraduate business degree
Courses
Professional experience
The two-year programme includes two mandatory internships, one at the end of the International Pre-Master year (4 months) and one at the end of the MSc year (6 months). Internships can take place in France or abroad, subject to approval by the programme director and based on the relevance to the MSc programme and course content.
Why join this programme?
Prepare your entrance to a prestigious MSc by consolidating and sharpening your knowledge of business and management, in an intensive, one-year International Pre-Master programme.
5 good reasons to join the programme
Apply for an MSc degree in a field that is different from your undergraduate degree

Integrate and adapt to the study methods of a top French business school before starting your MSc degree

Obtain academic qualifications necessary to integrate an MSc degree

Gain professional experience with two internships in two years

Build an international mind-set and cross-cultural communication skills
Stories
Anqi YANG
2013-14
The first year of my MSc in Global Management was a year of building the fundamentals skills necessary for almost every aspect of my professional life. Courses like Quantitative Methods gave me skills related to a several fields of study, like economics and finance, helping me to read and analyze data in a more objective way. Geopolitics provided me with a comprehensive vision of world trade. Also, a full day's work in an English-speaking environment strengthened my preparation for work in an international context. The courses were extremely useful and gave me confidence in my competences. What I also liked a lot is the diversity of teachers; they are from different countries, which really gives me a feeling of studying in an international school.
Romain PENNEL
2013-14
After an unusual study track, with a two-year high school diploma in Marketing and Trade, I chose to go abroad and complete a Bachelor in English. Graduated with a 3-year Bachelor degree, I followed the two-year MSc programme at NEOMA Business School. That was the perfect solution for me, to be able to get an MSc degree. The first year at NEOMA BS prepared me to follow the courses in the MSc in Marketing French Excellence, and face professional challenges in the international business arena.
For more information, contact our international team:
Practical information
Format:

Full time

Duration:

Short track : 15 months
Long track (2-year MSc option) : 12 months (1st year) + 15 months (2nd year)

Tuition fees:

Short track : €16,900
Long track (2-year MSc option) : €26,400

Campus:

Reims

Teaching language:

English

Course start date:

October 2021

Entry level:

Short track : 4-year Bachelor's degree
Long track (2-year MSc option) : 3-year Bachelor's degree

Degree awarded:

Master of Science / "Grade de Master" / RNCP Registered Level 7 Qualification
close-icon
Practical information
Practical information

Format:

Full time

Duration:

Short track : 15 months
Long track (2-year MSc option) : 12 months (1st year) + 15 months (2nd year)

Tuition fees:

0€

Campus:

Reims

Teaching language:

English

Course start date:

October 2021

Entry level:

Short track : 4-year Bachelor's degree
Long track (2-year MSc option) : 3-year Bachelor's degree

Degree awarded:

Master of Science / "Grade de Master" / RNCP Registered Level 7 Qualification