open alert
Webinar: Find out more about NEOMA's Masters of Science on June 1st at 3pm
Register now!
alert close
Become a venture founder or an expert who develops innovative ideas in corporate settings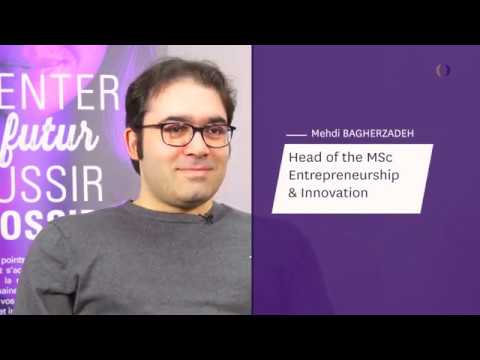 Programme presentation
The Entrepreneurship specialisation focuses on the broader aspects of entrepreneurship, from creating a company (Entrepreneurship) to creating a social activity and project management in an existing company (Intrapreneurship).
Company creation and entrepreneurial initiative have always been at the core of economic renewal while also providing a path for personal development that attracts more and more managers. There are an ever-increasing number of successful companies and non-profit organisations that are created through the determination of entrepreneurs guided by their vision and conviction.
An entrepreneurial project chosen by the students in groups allows them to put into practice all the theoretical and practical tools and techniques developed in the classes with professors and guest speakers: creativity, innovation, business models, strategy, marketing, financing, law, project management, etc.
5 good reasons to join the programme
Learn how to lead innovative problem-solving and entrepreneurial projects in an existing organisation.

Plug into the NEOMA BS entrepreneurship & innovation ecosystem, which includes entrepreneurs, investors, incubators and accelerators, and business leaders, to get the support and resources needed to start up and scale your own business or lead innovation projects in corporate settings.

Learn how to launch and develop your own business venture during or after completion of the programme.

Tap into global innovation and entrepreneurship network through our international seminars and study tours.

Gain access to NEOMA support and resources for digital innovation & entrepreneurship for digital transformation of your own business or in corporate settings.
Your MSc in 2 years!
If you hold a 3-year Bachelor's degree, you have the possibility of doing this MSc in two years by joining our 12-month International Pre-Master programme. For more information on this course, go to the section "2-Year MSc Option" !
Press release
Students from the MSc Entrepreneurship & Innovation programme started the Resource Raising Fest, focused on collecting resources to benefit L'Arche à Reims, an institution that houses and assists mentally disabled adults.
Programme objectives
The MSc Entrepreneurship & Innovation equips students with the necessary tools and skills needed to launch and develop their own ventures or to lead innovation projects in corporate settings while emphasising digital innovation and entrepreneurship.
This specialisation aims to:
Encourage entrepreneurial behaviour, attitudes and initiative among both individuals and existing organisations.
Present the best practices in the archetype of entrepreneurial initiative: creation, innovation and business development or growth.
Prepare students to launch a project, either creating a company or developing a new activity in an existing company.
Skill sets
The programme MSc Entrepreneurship & Innovation, awarding an advanced higher-education degree in international management (DESSMI) provides the skills to:
Perform a functional analysis and implement an action plan that incorporates digital, sustainable and international components
Conduct a scientific study and issue a recommendation
Develop ethical leadership abilities to strengthen one's manager posture
Programme highlights
KPMG PARTNERSHIP
Leveraging the strong ties between NEOMA and KPMG France, the programme offers a wide range of benefits to students. From organising joint training sessions to offering best practices and concrete expertise, KPMG France has proved to be more than just a big name on paper, but an integral part of the programme's success.
PROJECT-BASED APPROACH (LET'S DO IT PROJECT)
Essentially developed as a project-based programme, the MSc adopts a blended approach that integrates both theory and practice. This project aims to help students apply the insights gained during the first two semesters in real professional settings, notably for start-up creation in France or other selected countries.
HACKING REAL CHALLENGES
As part of its DNA, the programme encourages students to engage in real entrepreneurial and innovation experience, which also fosters social value. A recent example is the resource-raising challenge for L'Arche a Reims, an NGO helping mentally disabled individuals lead normal lives. At the end of the challenge, groups of students presented their ideas in front of a jury, the best of which will soon be implemented by the organisation.
MONTHLY SERIES OF "MEET THE ENTREPRENEUR" AND HANDS-ON WORKSHOPS
To further enrich the entrepreneurial adventure of the students, the programme offers monthly meetings with entrepreneurs from different fields, where they share their stories and experiences and respond to the students' questions. Additionally, hands-on workshops are an integral component of the MSc as they provide an array of soft and hard skills that students need for future success.
Discover the Two-Year MSc Option, the long track that makes a Masters' degree accessible to 3-year Bachelor students!
If you hold a 3-year Bachelor's degree, you have the possibility of doing this MSc in two years by joining our 12-month International Pre-Master programme. More information on the courses and the benefits by clicking on the link below.
Evaluation procedures
The programme is recognised through a dual validation:
Ongoing assessment: evaluations conducted throughout the length of the programme in the form of individual or collective reports to be submitted
A final evaluation: performed at the end of the course, it can be done under different forms – it is, for the most part, individual
At the end of the programme and after a validation of ECTS credits per programme year, the level-7 DESSMI – MSc Entrepreneurship and Innovation is awarded to participants.
If some modules were not validated and thus no credits were earned, the programme participant can redo the evaluation during a period set up for this purpose.
The MSc Entrepreneurship & Innovation programme prepares students to create their own ventures, work with consulting companies or help existing companies look for new businesses and markets or implement a digital transformation strategy.
Targeted professions
A few of the possible jobs that students can aim for:
Become the boss by launching a start-up
Start-up coach
R&D/Innovation director
Product development manager
Innovation and Intrapreneurship expert working for consulting companies
Professional experience
This experience can take the form of an internship (4-6 months), a job, or the creation of a start-up company in France or abroad.
Results indicators
Data soon available
Satisfaction Rating (out of 5) 
 
Data soon available
Average job search time
(month)
Data soon available
Insertion rate at 6 months 
 
Data soon available
 
Graduation rate
2019-2020 data
Admissions
It take a few qualities to become an venture founder or an expert to develop innovative ideas in corporate settings. They can be found in character, skills, knowledge, and experience.
As a graduate or a professional, you possess the following qualities that makes you an even better fit and profile for the programme:
Strong motivation and commitment to a venture.
Hard-wearing passion and drive.
Great communication and leadership skills.
Eligibility
SHORT TRACK:
4-year Bachelor's degree(Origin of the academic background : economy, business, science, etc.) or 3 year-Bachelor's degree with a minimum of 1 year professional experience
Proof of English language ability is required during the application process (TOEIC, TOEFL ibt, IELTS, Cambridge and Duolingo).*
LONG TRACK (2 Year MSc option):
3-year Bachelor's degree(Open to all backgrounds)
Proof of English language ability is required during the application process (TOEIC, TOEFL ibt, IELTS, Cambridge and Duolingo).*
*Contact us to know the scores required for each test.
Calendar
Recruitment is carried out on a rolling admissions basis. However, given the limited number of places, candidates are advised to apply as early as possible.
Admission is decided on the application to be filled out online.
Application fees: €100
2-Year MSc Option
Discover the Two-Year MSc Option, the long track that makes a Masters' degree accessible to 3-year Bachelor students!
"Open up your professional horizons and reach for an MSc from a top French Business School"
Delivered on the Rouen campus, this programme serves as a gateway to a Master's of Science for students with a three-year higher education qualification (French Licence or Bachelor's degree). The programme is also open to students with degrees in non-business fields. The first year is an International Pre-Master, overviewing the core of business studies and leading up to the selected MSc in the second year. Please specify your preferred programme when preparing your application.
Layout of the programme
This course was designed to…
Open access to MSc degrees to profiles missing the necessary qualifications for direct entry
Guarantee success at the MSc level by laying the ground during the Pre-Master year
Open up professional horizons by switching to a new field of study
Overview the main areas of knowledge included in an undergraduate business degree
Courses
Professional experience
The two-year programme includes two mandatory internships, one at the end of the International Pre-Master year (4 months) and one at the end of the MSc year (6 months). Internships can take place in France or abroad, subject to approval by the programme director and based on the relevance to the MSc programme and course content.
Why join this programme?
Prepare your entrance to a prestigious MSc by consolidating and sharpening your knowledge of business and management, in an intensive, one-year International Pre-Master programme.
5 good reasons to join the programme
Apply for an MSc degree in a field that is different from your undergraduate degree

Integrate and adapt to the study methods of a top French business school before starting your MSc degree

Obtain academic qualifications necessary to integrate an MSc degree

Gain professional experience with two internships in two years

Build an international mind-set and cross-cultural communication skills
Stories
Anqi YANG
2013-14
The first year of my MSc in Global Management was a year of building the fundamentals skills necessary for almost every aspect of my professional life. Courses like Quantitative Methods gave me skills related to a several fields of study, like economics and finance, helping me to read and analyze data in a more objective way. Geopolitics provided me with a comprehensive vision of world trade. Also, a full day's work in an English-speaking environment strengthened my preparation for work in an international context. The courses were extremely useful and gave me confidence in my competences. What I also liked a lot is the diversity of teachers; they are from different countries, which really gives me a feeling of studying in an international school.
Romain PENNEL
2013-14
After an unusual study track, with a two-year high school diploma in Marketing and Trade, I chose to go abroad and complete a Bachelor in English. Graduated with a 3-year Bachelor degree, I followed the two-year MSc programme at NEOMA Business School. That was the perfect solution for me, to be able to get an MSc degree. The first year at NEOMA BS prepared me to follow the courses in the MSc in Marketing French Excellence, and face professional challenges in the international business arena.
For more information, contact our international team:
Mariceli BLIN
Africa & Middle East
Xiaotong POIRREE
Europe, USA, Canada & Central Asia
Practical information
Format:

Full time

Duration:

Short track : 15 months
Long track (2-year MSc option) : 12 months (1st year) + 15 months (2nd year)

Tuition fees:

Short track : €17,300
Long track (2-year MSc option) : €27,000

Campus:

Rouen

Teaching language:

English

Course start date:

October 2022

Entry level:

Short track : 4-year Bachelor's degree or 3 year-Bachelor's degree with a minimum of 1 year professional experience
Long track (2-year MSc option) : 3-year Bachelor's degree

Degree awarded:

Master of Science, "Grade de Master" / Level 7 Qualification on the RNCP (French Register of Professional Certifications) / RNCP sheet No. 35116, Advanced degree in international management
close-icon
Practical information
Practical information

Format:

Full time

Duration:

Short track : 15 months
Long track (2-year MSc option) : 12 months (1st year) + 15 months (2nd year)

Tuition fees:

0€

Campus:

Rouen

Teaching language:

English

Course start date:

October 2022

Entry level:

Short track : 4-year Bachelor's degree or 3 year-Bachelor's degree with a minimum of 1 year professional experience
Long track (2-year MSc option) : 3-year Bachelor's degree

Degree awarded:

Master of Science, "Grade de Master" / Level 7 Qualification on the RNCP (French Register of Professional Certifications) / RNCP sheet No. 35116, Advanced degree in international management