open alert
Find out where you can meet us!
Come to meet our team by making an appointment Consult our list of events, you can check if your country/city is in it
alert close
Mastering brand and product management in digitally disrupted international marketplaces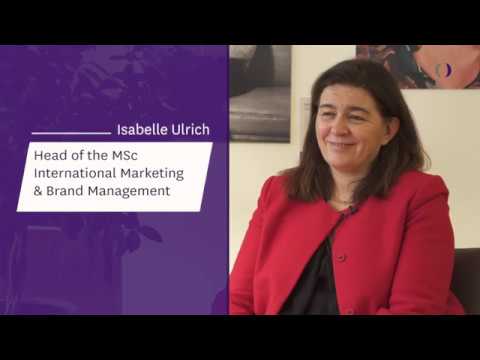 Programme presentation
The MSc International Marketing and Brand Management is a full-time Master's degree programme taught in English that offers insight into marketing and brand management characterised by digital change while also providing key digital certifications.
The programme aims at preparing students for diverse marketing career, in the current international marketplace characterised by radical digital change.
Its curriculum focuses on the efforts to create, communicate and deliver value through brands, products and services attractive for consumers, while making a comprehensive review of the ways to manage beneficial customer relationships in order to develop business.
5 good reasons to join the programme
Develop skills to master brand management in an international context.

Learn the latest marketing expertise based on the knowledge and experience accrued by scholars and professionals.

Master the digital communication skills essential for developing a branding career.

Acquire operational knowledge in key aspects of the marketing mix: product innovation, marketing communication, sales and retail, service approach.

Learn and practice using real-life brand case studies.
Programme objectives
The MSc International Marketing and Brand Management programme aims at preparing students for diverse marketing careers in current international marketplace characterised by radical digital change.
The programme covers the main fields of the latest marketing expertise, combining academic knowledge with the experience of professional experts sharing real-life business examples.
At the end of the programme, students are able to:
Master the fundamentals of brand and product management with a good knowledge of key branding concepts and analytical thinking skills about brands.
Know how to develop an effective integrated marketing communication strategy and integrate digital communication in order to best communicate the brand's value to customers.
Know how to develop multi-channel business performance by building on sales force management and trade marketing actions while also developing successful management of retail operations and category management.
Understand the specificities of services marketing and know how to develop successful marketing strategies in this field.
Recognise the ethical issues that arise in marketing contexts and develop skilful ethical decision-making habits in relation to all marketing decisions involved in the marketing mix.
Programme highlights
EXPERIENCE-BASED, IMMERSIVE APPROACH
The 'Product, Design & Innovation' course
This course allows students to acquire operational knowledge of design tools through practice.
The 'Digital Communication' course
This course uses an online advertising simulation to develop operational skills.
DIGITAL CERTIFICATION
Students will take the Google Ads certification during the programme.
PARTNERSHIPS
Partnerships are arranged with companies for most courses, incorporating professional lectures and case studies based on current business issues. Some partnerships are long term while others are based on a year-by-year agreement.
Examples of partners: Nielsen, GFK, Ferrero, Pepsico, Ogilvy, Publicis sapient, Havas media, etc.
The marketing sector offers various, exciting careers options, combining creativity, rational/analytical decisions and leadership challenges.
Targeted professions
A few of the possible jobs that students can aim for:
Brand manager, Product manager
Digital project manager
Advertising manager, Online sales manager
Trade marketer, Merchandising manager
Customer relationship manager
Market analyst, Strategy planner
Marketing manager in services
Professional experience
This experience can take the form of an internship (4-6 months), a job, or the creation of a start-up company in France or abroad.
Admissions
Careers in marketing are various and exciting, combining creativity, rational/analytical decisions, and leadership challenges.
The first set of required qualities regroups a strong motivation and a hard-working capacity.
The second set of qualities gathers analytical skills and project management skills.
The third set of qualities englobes communication skills, creativity, initiative, and leadership skills.
Eligibility
SHORT TRACK:
4-year Bachelor's degree (Origin of the academic background : economy, business, science, etc.)
Proof of English language ability is required during the application process (TOEIC, TOEFL, IELTS 6 or equivalent)
LONG TRACK (2 Year MSc option):
3-year Bachelor's degree (Open to all backgrounds)
Proof of English language ability is required during the application process (TOEIC, TOEFL, IELTS 6 or equivalent)
Calendar
Recruitment is carried out on a rolling admissions basis. However, given the limited number of places, candidates are advised to apply as early as possible.
Admission is decided on the application to be filled out online.
Application fees: €100
2-Year MSc Option
Discover the Two-Year MSc Option, the long track that makes a Masters' degree accessible to 3-year Bachelor students!
"Open up your professional horizons and reach for an MSc from a top French Business School"
Delivered on the Rouen campus, this programme serves as a gateway to a Master's of Science for students with a three-year higher education qualification (French Licence or Bachelor's degree). The programme is also open to students with degrees in non-business fields. The first year is an International Pre-Master, overviewing the core of business studies and leading up to the selected MSc in the second year. Please specify your preferred programme when preparing your application.
Layout of the programme
This course was designed to…
Open access to MSc degrees to profiles missing the necessary qualifications for direct entry
Guarantee success at the MSc level by laying the ground during the Pre-Master year
Open up professional horizons by switching to a new field of study
Overview the main areas of knowledge included in an undergraduate business degree
Courses
YEAR 1 (12 months)
SEMESTER 1 from october to december
Geopolitics and International Relations Introduction to statistics and Data Analysis Fundamentals of Marketing Entrepreneurship Digital organization Fundamentals of Finance Languages
SEMESTER 2 from january to april
The social impact of globalisation & innovation Negociation Management in a multicultural environment International Issues Digital Environment and RVI Capstone Project Internship (from may to september)
YEAR 2 (15 months) : MSc of your choice
Professional experience
The two-year programme includes two mandatory internships, one at the end of the International Pre-Master year (4 months) and one at the end of the MSc year (6 months). Internships can take place in France or abroad, subject to approval by the programme director and based on the relevance to the MSc programme and course content.
Why join this programme?
Prepare your entrance to a prestigious MSc by consolidating and sharpening your knowledge of business and management, in an intensive, one-year International Pre-Master programme.
5 good reasons to join the programme
Apply for an MSc degree in a field that is different from your undergraduate degree

Integrate and adapt to the study methods of a top French business school before starting your MSc degree

Obtain academic qualifications necessary to integrate an MSc degree

Gain professional experience with two internships in two years

Build an international mind-set and cross-cultural communication skills
Stories
Anqi YANG
2013-14
The first year of my MSc in Global Management was a year of building the fundamentals skills necessary for almost every aspect of my professional life. Courses like Quantitative Methods gave me skills related to a several fields of study, like economics and finance, helping me to read and analyze data in a more objective way. Geopolitics provided me with a comprehensive vision of world trade. Also, a full day's work in an English-speaking environment strengthened my preparation for work in an international context. The courses were extremely useful and gave me confidence in my competences. What I also liked a lot is the diversity of teachers; they are from different countries, which really gives me a feeling of studying in an international school.
Romain PENNEL
2013-14
After an unusual study track, with a two-year high school diploma in Marketing and Trade, I chose to go abroad and complete a Bachelor in English. Graduated with a 3-year Bachelor degree, I followed the two-year MSc programme at NEOMA Business School. That was the perfect solution for me, to be able to get an MSc degree. The first year at NEOMA BS prepared me to follow the courses in the MSc in Marketing French Excellence, and face professional challenges in the international business arena.
For more information, contact our international team:
Practical information
Format:

Full time

Duration:

Short track : 15 months
Long track (2-year MSc option) : 12 months (1st year) + 15 months (2nd year)

Tuition fees:

Short track : €16,900
Long track (2-year MSc option) : €26,400

Campus:

Reims, Rouen

Teaching language:

English

Course start date:

October 2021

Entry level:

Short track : 4-year Bachelor's degree
Long track (2-year MSc option) : 3-year Bachelor's degree

Degree awarded:

Master of Science / "Grade de Master" / RNCP Registered Level 7 Qualification
close-icon
Practical information
Practical information

Format:

Full time

Duration:

Short track : 15 months
Long track (2-year MSc option) : 12 months (1st year) + 15 months (2nd year)

Tuition fees:

0€

Campus:

Reims, Rouen

Teaching language:

English

Course start date:

October 2021

Entry level:

Short track : 4-year Bachelor's degree
Long track (2-year MSc option) : 3-year Bachelor's degree

Degree awarded:

Master of Science / "Grade de Master" / RNCP Registered Level 7 Qualification