Lead future supply chains and make them more efficient and adapted to the requirements of new global challenges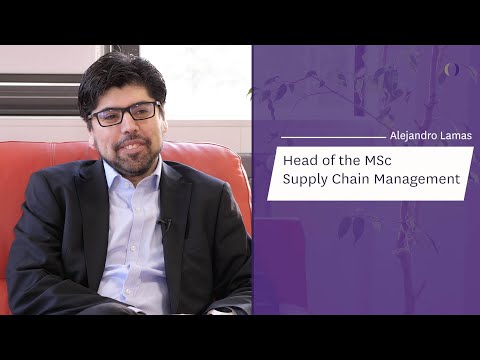 Programme presentation
Applying an inter-disciplinary teaching approach, the MSc Supply Chain Management not only focuses on the core disciplines of supply chain management and associated subjects such as strategic purchasing and information systems for supply chain, but it also puts emphasis on soft skills in order to fine tune students' professional profiles and training.
Choose one the following tracks:
The Supply Chain track: This focuses on the processes, operational design, logistics and development of supply chain strategies. It addresses the application of information systems in supply chain and how to generate a long-lasting, competitive advantage.
The Procurement track: This emphasises the importance of strategic sourcing, international procurement, relationship with retailing and concepts of international commerce and custom. The aim is to create value while facing procurement challenges such as cross-cultural situations, new business environments and integration with the other functions of the organisation.
5 good reasons to join the programme
Acquire a solid education aligned with the current challenges in supply chain

Develop strategic and project management skills in a varied, multi-cultural environment through an innovative and intensively structured programme to become an expert in supply chain management

Learn by doing in an innovative and intensive programme that combines the theory and practice of supply chain management

Prepare for qualifications through training in SAP, VBA and SCM applications

Interact with our international board of professors and professionals who excel in the field of supply chain management
Your MSc in 2 years!
If you hold a 3-year Bachelor's degree, you have the possibility of doing this MSc in two years by joining our 12-month International Pre-Master programme. For more information on this course, go to the section "2-Year MSc Option" !
Programme objectives
The MSc Supply Chain Management prepares future leaders in international supply chain procurement who can use new technologies and methods to address challenging issues in cross-cultural situations.
A solid education aligned with the main challenges in supply chain
Become a SCM expert thanks to an innovative, intensive programme
Discover SCM mechanisms during a 5-day intensive seminar (SNCF simulator, Le Havre Port visit, Rungis market visit, SAP training etc.)
Prepare for PMI (Project Management Institute) and Six Sigma qualifications through extensive use of information technology tools including SAP, Visual Basic training for SCM applications and professional courses
Apply for membership to the Association for Operations Management (APICS) and the Chartered Institute of Purchasing and Supply Management (CIPS)
Develop leadership and project management skills in a varied, multi-cultural environment
The procurement track focuses on purchasing and development and offers balanced professional experience and training involving strategy, processes, organisation and information systems.
Students can learn from the on-site operations and decisions experienced first hand during company visits and at conferences.
Skill sets
The programme MSc Supply Chain Management, awarding an advanced higher-education degree in international management (DESSMI) provides the skills to:
Perform a functional analysis and implement an action plan that incorporates digital, sustainable and international components
Conduct a scientific study and issue a recommendation
Develop ethical leadership abilities to strengthen one's manager posture
Programme highlights
The curriculum is organised in intensive weekly modules.
Mornings are spent on theory, while afternoons are devoted to workshops and practice
The programme gives a full view of the supply chain with particular emphasise in purchasing and modelling
SAP training
VBA training
Maritime transport seminar (including le Havre visit)
Dissertation work where students work with an advisor in order to solve practical challenges in SCM
Professional training that combines strategy, processes, organisation and information systems
EXPERIENCE-BASED, IMMERSIVE APPROACH
The programme includes a series of visits, practical work and professional talks that complement the theoretical courses and enable students to explore and discover supply chain activities.
Graduation project that could focus on solving practical problems related to SCM (e.g., last year students worked on projects in Sonoco, Danone, among others leading companies)
Students can develop their graduation work around a practical project that they are already working on
The programme offers professional talks where students can directly interact with internationally recognised supply chain professionals
Visit to the Port of Le Havre
Discover the Two-Year MSc Option, the long track that makes a Masters' degree accessible to 3-year Bachelor students!
If you hold a 3-year Bachelor's degree, you have the possibility of doing this MSc in two years by joining our 12-month International Pre-Master programme. More information on the courses and the benefits by clicking on the link below.
Evaluation procedures
The programme is recognised through a dual validation:
Ongoing assessment: evaluations conducted throughout the length of the programme in the form of individual or collective reports to be submitted
A final evaluation: performed at the end of the course, it can be done under different forms – it is, for the most part, individual
At the end of the programme and after a validation of ECTS credits per programme year, the level-7 DESSMI – MSc-Master of Science in Supply Chain Management is awarded to participants.
If some modules were not validated and thus no credits were earned, the programme participant can redo the evaluation during a period set up for this purpose.
The programme trains future specialist managers in international supply chain management and procurement
Key figures
Graduate Employment Survey 2020
Average base salary: €49,920/year

100% of students find a job within 6 months.
Targeted professions
A few of the possible jobs that students can aim for:
Purchasing Manager
Supply Chain/Purchasing/Operations Consultant
Demand Manager
Supply Chain Manager
Head of Procurement
Logistics Director
Planning Manager
Flow Manager
Leader of Supply Chain Projects
| | |
| --- | --- |
| Transportation & Logistics | 50 % |
| Consulting | 38 % |
| IY, Internet | 12 % |
Professional experience
This experience can take the form of an internship (4-6 months), a job, or the creation of a start-up company in France or abroad.
Results indicators
4.2
Satisfaction Rating (out of 5) 
1.9
Average job search time
(month)
100%
Insertion rate at 6 months 
96%
Graduation rate
2019-2020 data
Admissions
The MSc in Supply Chain Management welcomes students from industrial engineering (mechanics, etc.) or scientific (economy, management) backgrounds, and logistics professionals (process managers etc.) who are willing and able to take up complex challenges.
Eligibility
SHORT TRACK:
4-year Bachelor's degree(Origin of the academic background : economy, business, science, etc.) or 3 year-Bachelor's degree with a minimum of 1 year professional experience
Proof of English language ability is required during the application process (TOEIC, TOEFL ibt, IELTS, Cambridge and Duolingo).*
LONG TRACK (2 Year MSc option):
3-year Bachelor's degree(Open to all backgrounds)
Proof of English language ability is required during the application process (TOEIC, TOEFL ibt, IELTS, Cambridge and Duolingo).*
*Contact us to know the scores required for each test.
Calendar
Recruitment is carried out on a rolling admissions basis. However, given the limited number of places, candidates are advised to apply as early as possible.
Admission is decided on the application to be filled out online.
Application fees : €100
2-Year MSc Option
Discover the Two-Year MSc Option, the long track that makes a Masters' degree accessible to 3-year Bachelor students!
"Open up your professional horizons and reach for an MSc from a top French Business School"
Delivered on the Rouen campus, this programme serves as a gateway to a Master's of Science for students with a three-year higher education qualification (French Licence or Bachelor's degree). The programme is also open to students with degrees in non-business fields. The first year is an International Pre-Master, overviewing the core of business studies and leading up to the selected MSc in the second year. Please specify your preferred programme when preparing your application.
Layout of the programme
This course was designed to…
Open access to MSc degrees to profiles missing the necessary qualifications for direct entry
Guarantee success at the MSc level by laying the ground during the Pre-Master year
Open up professional horizons by switching to a new field of study
Overview the main areas of knowledge included in an undergraduate business degree
Courses
Professional experience
The two-year programme includes two mandatory internships, one at the end of the International Pre-Master year (4 months) and one at the end of the MSc year (6 months). Internships can take place in France or abroad, subject to approval by the programme director and based on the relevance to the MSc programme and course content.
Why join this programme?
Prepare your entrance to a prestigious MSc by consolidating and sharpening your knowledge of business and management, in an intensive, one-year International Pre-Master programme.
5 good reasons to join the programme
Apply for an MSc degree in a field that is different from your undergraduate degree

Integrate and adapt to the study methods of a top French business school before starting your MSc degree

Obtain academic qualifications necessary to integrate an MSc degree

Gain professional experience with two internships in two years

Build an international mind-set and cross-cultural communication skills
Stories
Anqi YANG
2013-14
The first year of my MSc in Global Management was a year of building the fundamentals skills necessary for almost every aspect of my professional life. Courses like Quantitative Methods gave me skills related to a several fields of study, like economics and finance, helping me to read and analyze data in a more objective way. Geopolitics provided me with a comprehensive vision of world trade. Also, a full day's work in an English-speaking environment strengthened my preparation for work in an international context. The courses were extremely useful and gave me confidence in my competences. What I also liked a lot is the diversity of teachers; they are from different countries, which really gives me a feeling of studying in an international school.
Romain PENNEL
2013-14
After an unusual study track, with a two-year high school diploma in Marketing and Trade, I chose to go abroad and complete a Bachelor in English. Graduated with a 3-year Bachelor degree, I followed the two-year MSc programme at NEOMA Business School. That was the perfect solution for me, to be able to get an MSc degree. The first year at NEOMA BS prepared me to follow the courses in the MSc in Marketing French Excellence, and face professional challenges in the international business arena.
For more information, contact our international team:
Key figures
100% of students find a job within 6 months (Graduate Employment Survey 2020)

€49,920/year Average base salary (Graduate Employment Survey 2020)
Practical information
Format:

Full time

Duration:

Short track : 15 months
Long track (2-year MSc option) : 12 months (1st year) + 15 months (2nd year)

Tuition fees:

Short track : €17,300
Long track (2-year MSc option) : €27,000

Campus:

Rouen

Teaching language:

English

Course start date:

October 2022

Entry level:

Short track : 4-year Bachelor's degree or 3 year-Bachelor's degree with a minimum of 1 year professional experience
Long track (2-year MSc option) : 3-year Bachelor's degree

Degree awarded:

Master of Science, "Grade de Master" / Level 7 Qualification on the RNCP (French Register of Professional Certifications) / RNCP sheet No. 35116, Advanced degree in international management
close-icon
Ranking
7 th rank
Eduniversal Ranking 2021 of the best Masters, AM and MBA - Logistics Category
close-icon
Practical information
Practical information

Format:

Full time

Duration:

Short track : 15 months
Long track (2-year MSc option) : 12 months (1st year) + 15 months (2nd year)

Tuition fees:

0€

Campus:

Rouen

Teaching language:

English

Course start date:

October 2022

Entry level:

Short track : 4-year Bachelor's degree or 3 year-Bachelor's degree with a minimum of 1 year professional experience
Long track (2-year MSc option) : 3-year Bachelor's degree

Degree awarded:

Master of Science, "Grade de Master" / Level 7 Qualification on the RNCP (French Register of Professional Certifications) / RNCP sheet No. 35116, Advanced degree in international management