open alert
Find out where you can meet us!
Come to meet our team by making an appointment Consult our list of events, you can check if your country/city is in it
alert close
An authentic immersive experience in a multicultural context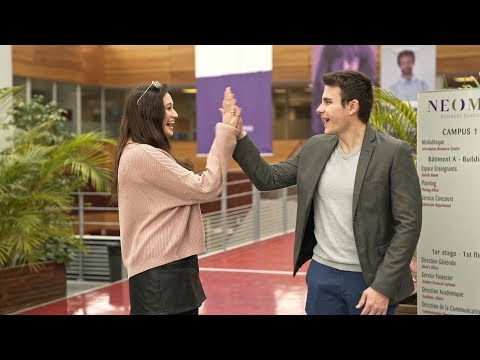 Are you motivated to spend a long time abroad after two years of studies or at the beginning of your programme? Then the CESEM meets your needs!
By offering a European track, an Americas track and an Asian track, that is 15 programmes in 13 different countries, this versatile training course centred on management fundamentals offers an authentic immersive experience in a multicultural context through your entire curriculum.
So if you are looking for a challenge and dream of an international career, set yourself above the rest and become an open-minded, dynamic leader with excellent adaption skills.
CESEM will open you up to greater cultural agility and facilitate your professional mobility in other countries and cultures.
5 good reasons to choose the CESEM programme
Earning a Franco-international dual diplôma

An authentic, immersive experience over 4 years in 2 different countries

Successful entry in the professional world: 100% of graduates find a job within 3 months

A professional track with a strong international focus: 81% of graduates begin their careers in foreign posts

A 4-year format offering the opportunity to develop a specialisation through renowned Masters programmes in France and abroad
2016 "l'Etudiant" Magazine Rankings for 4 and 5-year Post-Baccalaureate Programmes
The CESEM programme is ranked:
5th in the general ranking
4th place in the "Academic Excellence" ranking
4th place in the "International" ranking
Based on this criterion, the CESEM programme has obtained the top score many times for its:
Percentage of exchange students
Number of foreign graduates
Number of double diplomas
Percentage of students in accredited universities
· 8th place in the "Proximity to companies" ranking
The CESEM is distinguished in particular by the high quality of its selectiveness.
Cultivate your curiosity and realize your dreams by profiting from a unique experience abroad
Curriculum
Construct your internationnaly oriented project !
100% of CESEM students study in two countries: in France and in the country of one of our partners. Whichever cycle your choose, this progressive, coherent programme allows you to develop a solid base of managerial skills and gives you a professional profile with a strong international aspect.
First and second years:
The first and second years take place in France or at a partner school for the European cycles, involving courses focused on acquiring management fundamentals: Marketing, Finance, Accounting, Economics, Management, Quantitative Management Methods.
Language teaching is also an instrumental feature with the study of two modern languages, one being used in your chosen cycle.
For students starting their studies in France, CESEM incorporates 3 specific additional modules: personal development, business law, and a six-month internship in France.
Third and fourth years:
If you started your studies in France, you will travel abroad. In the opposite situation, you will study at CESEM.
The pedagogic objectives at the end of the programme are to further develop your knowledge and skills in the third year and your orientation in the fourth year. The courses are centred on Strategy, International Economics, Human Resources, Ethics, Information Systems Management, Logistics, Supply Chain Management and Purchasing.
You will also do a second six-month internship as well as a final thesis.
Languages: teaching and certification
Language certification is an essential step in your studies at CESEM, allowing you to establish your linguistic level for the job market.
All students enrolled in an Anglo-Saxon track take the TOEIC test.
Other tests are required depending on the cycle:
The HSK for the French-Chinese cycle
The DELE for the French-Spanish and French-Mexican cycles
The TOEFL or the IELTS for the French-Mexican, French-Dutch, French-American cycles
CESEM encourages you to pursue the learning of a third language (optional), which will give additional value to your profile as a future international manager.
That is why we offer courses in Spanish, German, Italian, Portuguese (Brazilian), Chinese, Arabic, Russian and Japanese (contact us for the conditions).
Professional experience
Gain extensive work experiencewith the CESEM Degree
CESEM allows you to bring added value to your CV through two long-term internships (one semester each), which are done while studying, one in France and the other abroad:
An operational internship in France between the first and second years,
An international management internship between the third and fourth years.
You can also do additional internships in France and abroad in order to enhance your professional experience. These multiple experiences allow you to expand your skills and develop your ability to adapt while building and sharpening your professional aims.
International
International experience at the heart of CESEM's DNA
To offer an exceptional experience abroad, the programme relies on its network of excellent international partners, allowing you to divide your time studying part in France and part in one of our partner schools of your choice, thus obtaining a dual degree!
At the end of your curriculum you will have earned a Bachelor in International Business Management from NEOMA Business School in addition to a second degree from the chosen partner schools, as well as be able to work in two to three different languages.
Which cycle will you choose ?
CESEM's 15 international partners have a solid reputation for both their academic and professional profiles.
European track
Germany – ESB Business School (Reutlingen)
ESB Business School is recognised in Germany as a leading school for its international business programmes. There, you will develop a taste for academic excellence and the reflexes of a socially responsible graduate, who is highly employable throughout the world. You will get prepared to fulfill challenging roles in companies and organisations in an international context.
Departure: 1st or 3rd year – Languages of instruction: German and English
Track accredited by the DFH
Irland – DCU (Dublin)
A university with a large business focus, DCU is internationally recognised for the quality of its graduates and their ability to bring change to the businesses they work for. This partner offers a unique learning environment where students are encouraged to develop their creativity and their skills as innovators. An incubator hosts more than 30 businesses and 330 people.
Departure: 1st or 3rd year – Languages of instruction: English
Italy – Università Cattolica del Sacro Cuore (Piacenza)
Founded in 1921, the Università Cattolica del Sacro Cuore (UCSC) is accredited amongst the most prestigious European and global universities, thanks to the its scientific research, along with its publications and international collaborations. The Piacenza campus is located at approximately 70 km from Milan, in the heart of Italy's breadbasket. You will enjoy a well-planned site equipped with state-of-the-art teaching tools and facilities, and benefit from a strong link with the world of work and the professions.
Departure: 3rd year – Languages of instruction: Italian and English.
Beginners in Italian accepted.
Span – ICADE (Madrid)
One of the best universities in Spain, Universidad Pontificia Comillas, puts value in the academic education of its students, but also in their ethical, aesthetical, and human awareness, their ability for self-reflection as well as their sense of responsibility, thus contributing to their personal development.
Departure: 1st or 3rd year – Languages of instruction: Spanish
The Netherlands – Avans Hogeschool (Breda)
"Connecting people, creating knowledge", this is the motto of Avans University of Applied Sciences. The aim of this university is to ensure that students, professors and university personnel all come together to form a dynamic network at the institution, united by knowledge and skills development. In the classes, students learn how to find lasting solutions to future problems while developing a curious and analytical outlook, an entrepreneurial spirit, creativity, the ability to work with others, while respecting the underlying ethics of a company and society as a whole.
Departure: 3rd year – Languages of instruction: English
United Kingdom – Lancaster University (Lancaster)
A renowned university, ranked 5th in Business Studies by the Times, LUMS provides a passionate and demanding academic environment. With 150 nationalities on campus and courses set up with an international perspective, the decidedly "global" focus of LUMS gives its students all the keys needed to excel in a constantly changing and complex international economic environment.
Départ : 1ère et 3e année – Langue d'enseignement : anglais
Russia – IBS Moscow (Moscou)
IBS-Moscow was originally founded in 1988 within the Moscow State University of International Relations, nationally known for strong international expertise. Incepted it The Russian Presidential Academy of National Economy and Public Administration (RANEPA) since 1994, it has become a leader in the Russian business education market. Its mission is to cultivate globally competitive and adaptive managers for public and business sectors of the Russian economy, in order to address the challenges of innovation and development of the society.
Departure: 3rd year – Languages of instruction: English.
Beginners in Russian accepted.
Americas track
Canada – Goodman School of Business, Brock University (St. Catherines, Ontario)
La Goodman School of Business de Brock University est l'une des plus récentes et des plus dynamiques écoles de commerce du Canada. Elle vous propose un environnement éducatif qui encourage et facilite l'innovation et l'excellence, grâce à des programmes complets qui intègrent des approches appliquées et théoriques dans tous les aspects du management.
En savoir plus
Départ : 3ème année – Langue d'enseignement : anglais
United States – Elon University (Elon)
At Elon University, The Martha and Spencer Love School of Business is consistently ranked among the top 50 American business schools. Known as a leader in the creation and spreading of various educational experiences, its objective is to train graduates who are able to provide moral leadership in the global community. The school strives to develop intellectual curiosity, discipline, critical thinking and a common commitment to excellence in each of its students.
Departure: 3rd year – Languages of instruction: English
United States – North Carolina State University (Raleigh)
The Poole College of Management at North Carolina State University employs a pedagogic approach combining teaching, research and student involvement in an effort to develop the student's leadership in an environment of changing technology and intense internationalism of economies. The institution has also implemented a personal development programme to help students become leaders in their areas of excellence and turn them into independent thinkers and business leaders.
Departure: 3rd year – Languages of instruction: English
Brazil – Fundaçao Getulio Vargas (Sao Paulo)
Fundação Getulio Vargas (FGV) is a higher education institution in Brazil founded in 1944. It is characterised by its daring and frontier spirit. It was the first school in Brazil to offer programmes in economics, psychology, accounting and education at the undergraduate and graduate levels. The FGV campus where CESEM students take their courses is located in the centre of São Paulo, near the major avenues of the country's financial centre.
Departure: 3rd year – Languages of instruction: English (possibility of taking course in Portuguese and Spanish).
Beginners in Portugese accepted.
Mexico : UDLAP (Puebla)
The Universidad de las Americas Puebla (UDLAP) trains graduates who possess the skills necessary to face global competition. Therefore, it has the mission of participating in the development of society by training critical, creative and innovative professionals endowed with a high level of technical sophistication. A UDLAP degree comes with American SACS accreditation, an asset for working in the United States.
Departure: 3rd year – Languages of instruction: Spanish and English
Asian track
China : UIBE (Pékin)
Located in the north east of Beijing, the University of International Business and Economics (UIBE) is recognised for its excellence in economics and business. Through their intellectual capacity, language skills and practical experience, the school's students easily join the job market.
Departure: 3rd year – Languages of instruction: Chinese and English.
Beginners in Chinese accepted.
Japon – Nagoya University of Commerce & Business (Nagoya)
Nagoya University of Commerce & Business is one of Japan's premier institutions and the first to be AACSB and AMBA accredited. You will be train to become an innovative and ethical leaders who possess a ʻFrontier Spirit', with the ability to bridge the gap between New Asia and the rest of the world.
Departure: 3rd year – Languages of instruction: English (and Japanese for the most advanced students).
Beginners in Japanese accepted.
Careers
The CESEM degree an accelerator for your professional career
What are the qualities of CESEM graduates? Their agility, easy adaptability, ability to manage multicultural teams, convey ideas, work with other and, of course, their developed sense of international mobility. These are the many qualities that will help you in your future career or in the continuation of your studies.
81% of graduates are chosen to start their career abroad

100% of students find a job within 3 months

The average starting salary is €35k-€40k€
Principal functions
■ Marketing, communication, advertising 24%
■ Finance, accounting, management 24%
■ Business, sales, export 19%
■ Research, consulting, expertise 15%
■ Executive management, management 7,5%
■ Administration 3,5%
■ Human resources 3%
■ Purchasing, logistics 3%
■ Organisation, I.T., internet 1%
Principle sectors of activity
■ Business, Supply 18%
■ Advertising, communication, media 17%
■ I.T. Technologies 12%
■ Auditing, accounting expertise 11%
■ Industry 11%
■ Banking, insurance 9%
■ Consulting, research 6%
■ Hospitality, restaurants, tourism 6%
■ Administration 4%
■ Real estate 3%
■ Transport, logistics 3%
A few examples of companies that recruit our graduates
Balenciaga – BNP Paribas – Deloitte Dublin – Google – Groupe Crédit Agricole – JP Morgan Chase – L'Oréal – Microsoft – Möet & Chandon – Nestlé – Nielsen – OTIS – PwC Luxembourg – Safran –Unilever – etc.
A strong company presence
Companies remain very involved throughout the length of the programme, both in the courses and through various activities (projects, conferences, class lectures, internships, etc.) and in the events organised by the school (business forums, career days and career counselling).
Programme directors rely on the help of companies so that the curriculum always reflects the needs of companies.
Continuing studies
Supported by the Ministry of High Education and Research, CESEM allows you to continue your studies in a Masters programme once you've earned your degree, in management schools or universities in France or abroad.
At NEOMA Business School you can continue your studies with :
A Specialised Masters
A Master of Science
The "Grande Ecole" programme
Admissions
Candidate profiles
CESEM is orientated towards future Baccalaureate degree holders (French, foreign, and international) and students who have already entered a first cycle of higher education.
Submitting your application
CESEM is organised into 12 programmes. When you register for the exams, you choose the programme or programmes that your interested in and those that correspond to the languages that your learning (two maximum).
CESEM is part of the SESAME exam database.
The exams
Written tests
Language of selected programmes:
2 maximum (English, German, Spanish, Portuguese or Chinese depending on the language of the selected programme)
Analysis – synthesis
General Logic
Logic, verbal and maths
Oral tests
You move on to the oral exams if you are declared admissible after the written tests
Language(s) of the selected programmes
Individual interview
For more information, contact our international team:
Key figures
94% of graduates find a job within 3 months

86% begin their career abroad

2 stages semester-long internships (France & International)
Practical information
Format:

Full time

Duration:

4 years

Tuition fees:

€10,500 per year

Campus:

Paris, Partner's university, Reims

Teaching language:

English / French

Course start date:

September 2021

Entry level:

12th grade
Baccalauréat | Bac+1-level qualification Baccalaureate (IB, high school diploma or equivalent)

Degree awarded:

4-year Bachelor Degree
close-icon
Ranking
4 th rank
2018 "l'Etudiant" Magazine Rankings for 4 and 5-year Post-Baccalaureate Programmes (+2 places)
close-icon
Practical information
Practical information

Format:

Full time

Duration:

4 years

Tuition fees:

0€

Campus:

Paris, Partner's university, Reims

Teaching language:

English / French

Course start date:

September 2021

Entry level:

12th grade
Baccalauréat | Bac+1-level qualification Baccalaureate (IB, high school diploma or equivalent)

Degree awarded:

4-year Bachelor Degree